Protect your vehicle with custom coverage from Endurance.
Shop Now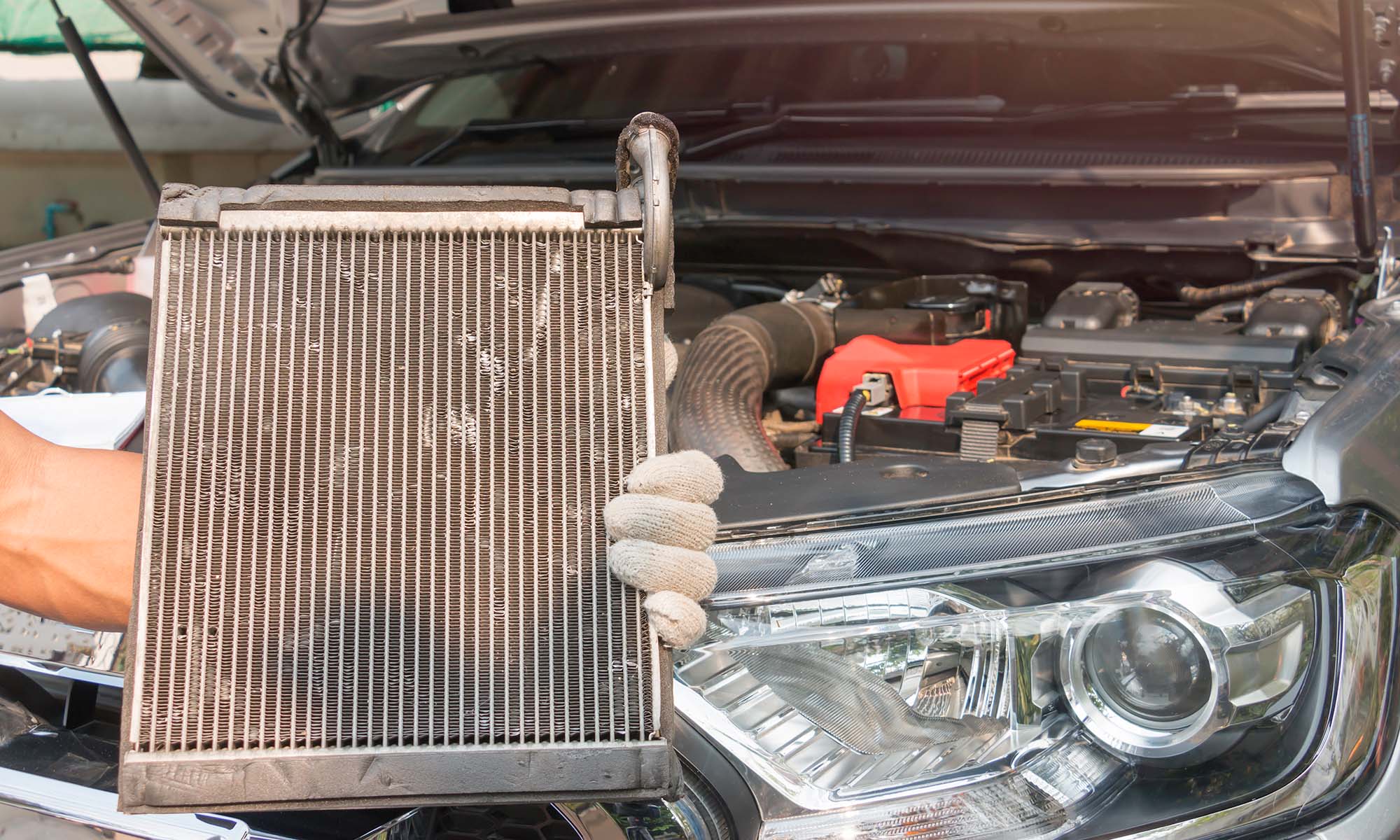 Whether it's an alternator, a head gasket, crankshaft, torque converter, spark plugs, and so on, there are hundreds of parts under the hood of your car. And for it to run efficiently, no matter if it's a brand new vehicle right off a dealership lot or a used car, each and every component needs to work cohesively. However, while they are all important, there are still some parts of any vehicle, such as the radiator, that are far more important than others. 
Like an engine or transmission, your car won't be going anywhere without a properly working radiator. But while they are vital for any gas-powered vehicle, it's important to learn more about what your car's radiator does and whether or not it's covered under your extended warranty.
What is a Radiator?
A car's radiator is a major component of the cooling system. Specifically, the radiator takes a combination of coolant (which contains antifreeze) and water used to cool your car's engine when running and cools it down to be used again. 
Once the heated fluid reaches the radiator, a fan is activated that pumps air against the fluid to cool it off. Once this occurs, the fluid is then sent back throughout the vehicle, where it continues to absorb heat and keep the engine operating at its optimal temperature. However, should your vehicle suffer a coolant leak or have any other issues regarding your radiator, it would be prone to overheating every time you turn on the engine.
Should you look under your vehicle's hood, typically near the front grille of the vehicle, you may see a large metal square. This is the main piece of the radiator where the fan is housed, which has a few tubes and hoses connecting it to the rest of the engine bay.
What Can Go Wrong with My Car's Radiator?
As you can imagine, a radiator failing would be catastrophic for a vehicle. With no way to cool the liquid flowing through the engine, your vehicle could quickly overheat and become dangerous to drive. But what can cause issues with your radiator?
One common problem that arises with radiators is rusting. When this occurs, cracks and leaks in the radiator can form that allow the coolant to leak. Fortunately, radiators are meant to last for many years without damage, though exposure to extreme elements and a lack of use can accelerate the process.
Additionally, issues with the internal thermometer that measures coolant temperature can result in the radiator fan not being activated at the proper time. Should this occur, the radiator would not cool the coolant properly, and your vehicle can begin to overheat.
To help prepare you should your vehicle ever need a new radiator, here are some examples of this kind of repair cost, using popular vehicles as examples:
As evident, radiator repairs are not cheap considering the importance of this part. This is why ensuring this part is protected under your hood is so crucial. 
Are Radiators Covered in My Warranty?
As with any brand new car, you will have the coverage of a factory or manufacturer's warranty to help you with any repairs regarding your radiator and more. Typically, this coverage will come from your bumper-to-bumper warranty, lasting for around three years or 36,000 miles driven (whichever comes first) or for five years or 60,000 miles. That means when that coverage ends, any radiator repairs or any other breakdowns your vehicle experiences will have to be paid for by yourself.
To help you get the peace of mind you're looking for, you can often purchase an extended car warranty directly from your automaker. But, while some manufacturers may offer extended warranty coverage after your factory coverage ends, others won't. Instead, many automakers may limit you to purchasing an extended car warranty while your factory coverage is still active, meaning if your coverage has recently run out or if you've purchased a used vehicle with over 60,000 miles, you'd be out of luck—unless you find help in the form of a third-party warranty provider.
Like an extended warranty from your automaker, you can purchase coverage for your vehicle from third-party providers such as Endurance, Carshield, CARCHEX, Protect My Car, Olive, etc. And like your automaker, third-party providers can help cover the car repair costs for your vehicle's most vital components—including your radiator. However, it's important to note that while you may see vehicle protection plans from Endurance and others referred to as an "extended car warranty," they aren't actually by definition. Instead, any vehicle protection plan you purchase from a provider other than your automaker will be a vehicle service contract (VSC). 
Still, while not technically a warranty, vehicle protection plans can offer you the same levels of coverage as your automaker with many of the restrictions. For example, with Endurance, you can take your vehicle to any certified repair shop or ASE Certified mechanic of your choice for repairs. In contrast, with an extended warranty from your automaker, you may be limited to getting repairs done just at the dealership. 
Preventative maintenance is also not something that an extended warranty from your automaker (or most other third-party providers) can't help you with, but not when you have Endurance. With the Advantage auto protection plan, you can be certain that you'll have comprehensive breakdown protection while also saving up to $3,500 on your vehicle's routine maintenance needs, including tire replacements, alignment checks, engine diagnostic exams and more. 
As an Endurance customer, you'll also have the help of 24/7 roadside assistance and towing, trip interruption coverage and even rental car reimbursements, helping you to get to the shop and back on the road fast. And as a bonus, you'll also automatically be eligible to receive a full year's worth of Elite Benefits, including tire replacements/repairs, collision discounts and more. Just find the Endurance vehicle protection plan that fits your needs and budget (some plans start as low as $79/month), pay the $20 activation fee, and enjoy your entire year's worth of extra perks and savings. 
Keeping Your Vehicle Protected with Endurance
Ensuring your radiator and all parts under the hood are protected should be a top priority for any car owner, especially without the help of a factory warranty to back you up. But, with an Endurance auto protection plan, you can find the level of coverage you need for your vehicle. Plans like Advantage can even help give you comprehensive breakdown protection while also helping you save up to $3,500 on your vehicle's essential maintenance needs. Even high-end luxury vehicles from select automakers like Land Rover, Jaguar, Porsche, Mercedes-Benz, Audi and more can find coverage with the Highline protection plan. 
Each Endurance plan also automatically comes with 24/7 roadside assistance, trip interruption coverage, rental car reimbursements and a 30-day money-back guarantee to help you find the right plan for you and your needs. You can even enjoy a full year of Endurance Elite Benefits regardless of your plan, including collision discounts, key fob replacements, and more. And most Endurance plans are also transferable, meaning you can look to upsell your vehicle whenever you look to sell it. 
Get started protecting your vehicle today by requesting a free, no-obligation quote. Or, to learn more about how Endurance can help you and your vehicle, give a member of our award-winning customer care team a call at (800) 253-8203. You can also find even more answers to your extended warranty FAQs, vehicle buying guides, DIY maintenance tips, and more by visiting the Endurance blog.
More like this
Extended Warranty

Owning a car can present many opportunities for travel, convenient commutes, and much more. Your vehicle will get you where you need to go, but only if you take care..

Read More

Extended Warranty

Every driver wants to find new ways to cut the cost of car ownership. Whether it's doing DIY maintenance or picking up a car detailing kit, there are plenty of..

Read More

Extended Warranty

Every car owner is different, but there is one thing we all have in common: we want to drive a reliable vehicle. No matter how reliable, vehicles inevitably need routine..

Read More