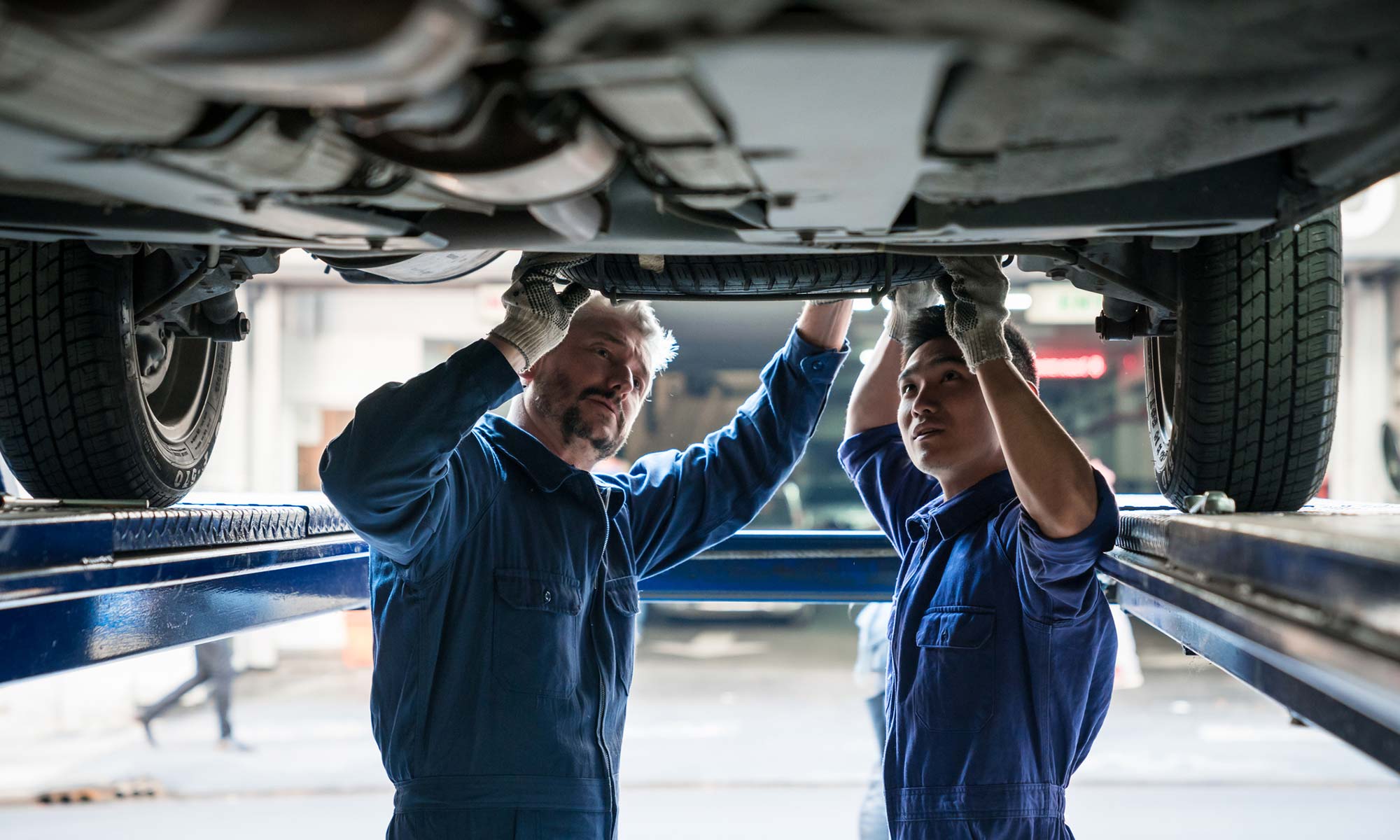 No matter the time of year, few things give you as much freedom as owning a car. After all, whether you're dealing with rain, snow or shine, a car can give you the ability to get to and from wherever you want to go, whenever you want to, as long as it keeps running. But if you want to keep your car in good shape, it can cost a lot of money. 
Keeping your car running can be expensive, but having the right coverage, like an extended warranty on an older, used car, can help protect you from expensive breakdowns and auto repairs. But when it comes to finding that coverage, there are several options to choose from. That's why understanding the differences between extended warranty providers can help you decide which one is best for you and your vehicle. For example, comparing the coverage options available at Endurance warranty and Preferred Warranties Inc. can help ensure you find the perfect coverage for your vehicle. 
What Is an Extended Car Warranty?
Before learning about extended car warranty coverages, you must first understand factory warranties. Specifically, when you buy a new car, it will come with a warranty from the manufacturer, often referred to as a manufacturer's warranty or a factory warranty. But regardless of what your automaker refers to this coverage as, this warranty covers various vehicle components. It protects you from repairs that need to happen due to poor design or issues at the factory, often lasting between 3 years/36,000 miles or 5 years/60,000 miles (whichever comes first). And for most automakers, this factory coverage will often include a combination of the following types of coverage:
Powertrain Warranty:

The

powertrain

warranty

that comes with your

factory warranty

or that you buy from a third-party provider will cover vital components like the engine and the transmission. This type of warranty is essential if you want to make sure your vehicle runs well and is covered in the event of any severe engine trouble. 

Bumper-to-Bumper Warranty:

You may often see this called a "new vehicle limited warranty" from your automaker or as an "

exclusionary coverage plan

" from third-party providers. Overall, this coverage will protect your entire vehicle from front to back. This can include everything from basic

powertrain

components (the

powertrain

warranty will cover the bulk) to more sophisticated systems like the fuel, cooling and

air conditioning

systems, plus even more minor and larger components. However, while exclusionary plans can provide near factory-like coverage in most instances, remember that only your automaker can provide true "bumper-to-bumper" coverage.

Corrosion Coverage:

Most often found from automakers and lasting upwards of seven years or more in some cases, this type of warranty protects your vehicle from

corrosion and rust

, including your car's paint and body panels, which can be a serious structural problem. 

Emissions Warranty:

An emissions warranty usually comes with factory coverage and can cover things like the engine, transmission, and

exhaust.

This warranty can also help cover you if your

catalytic converter

is damaged or stolen. 
No matter the kind of factory warranty coverage you may have, it will cover various components of the vehicle and protects you from repairs. But, when this coverage runs out, you will be financially responsible for any problems with your car, whether they are your fault or not. It's also crucial to remember that most automakers may limit you to purchasing any available extended warranty coverage only when your car's original warranty is still active. This means that if you've had your car for six years and your original warranty lasted five, or if you've purchased a used vehicle that's also past its coverage cutoffs, you'd be on your own.
Instead, suppose you want to protect the vehicle. In that case, you can get an extended warranty from the manufacturer or a third-party car warranty company, like us at Endurance, CARCHEX, Protect My Car, CarShield and more. These warranties, also known as vehicle service contracts or vehicle protection plans when not coming from your automaker, come in a wide variety of coverage levels, making it vital to understand what you can get from each provider, like the coverage from Endurance Warranty and Preferred Warranties Inc.
The Companies
Learning more about Endurance and PWI, apart from the plans offered, can help ensure you get the coverage, eligibility and benefits you're looking for.
Endurance
Since 2006, we here at Endurance have been the leading provider of vehicle protection plans in the United States by helping people pay for costly repairs and protecting them from unexpected breakdowns. And with coverage plans for almost every budget and type of vehicle, including vehicles up to 20 years old and with no mileage limits, as well as luxury vehicles, cars used for rideshare and delivery services. Even Canadian Grey Market vehicles or cars with a salvage or rebuilt title can find coverage with Endurance, including finding customizable coverage to fit your needs and budget. 
Plus, every plan allows you to go to any certified repair shop or ASE Certified mechanic for repairs, along with a 30-day money-back guarantee that also happens to be your 30-day waiting period. You'll also enjoy complimentary benefits like 24/7 roadside assistance and towing, trip interruption coverage, and rental car reimbursements to have the confidence you need when you are out on the road. You can even activate an entire year's worth of Endurance Elite Benefits, which include extra perks like collision discounts, key fob replacements and more. And with the Endurance Mobile app, you can access your plan easily, no matter where you are. 
On top of having flexible protection plans for vehicles that most providers won't cover, Endurance is also known for our award-winning customer service team that team can answer any questions you have and is available at all times. This kind of dedication to our customers is just one of the reasons we have earned 4.3 stars with 4,355 reviews on Trustpilot and 4 stars from Consumer Affairs. We're also a direct provider of most of our coverage plans, meaning that you'll have a member of the Endurance team available to help you throughout your claims process. But don't just take our word for it, as these are just a few of the many 4- and 5-star reviews we receive from the thousands of Endurance customers across the country: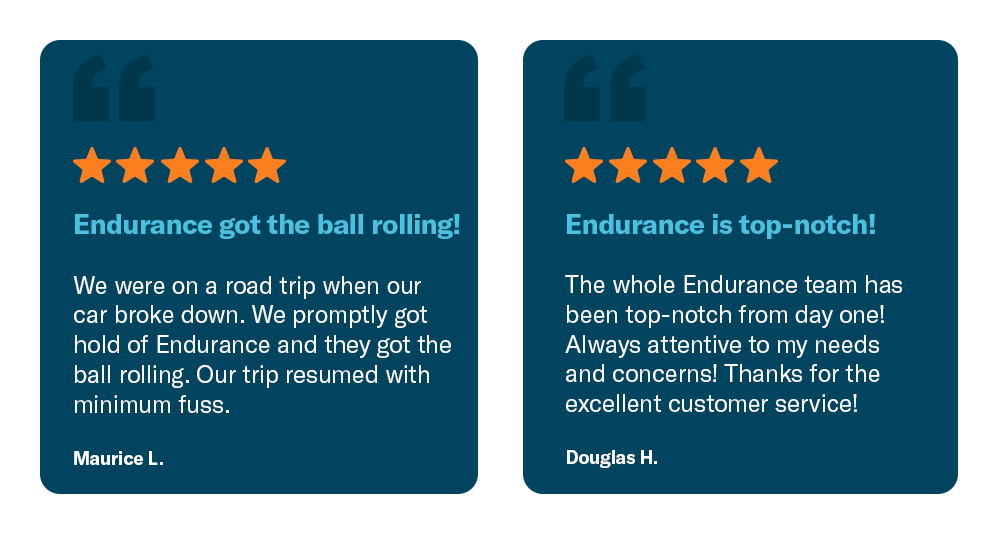 Preferred Warranties, Inc.
Preferred Warranties, Inc., or PWI, has been in business since the 1990s and was founded in Pottsville, Pennsylvania. The company was started by a used car dealership owner who was disappointed in the options for vehicle protection plans for their cars. Since then, they have expanded to all fifty states and now offer a variety of plans for car owners. 
While also highly rated, PWI is not a direct provider of coverage and instead labels itself as a wholesale company, meaning its plans are provided through various approved dealers. This may be an issue for some consumers and could result in some inconsistency with pricing. Another issue in some of the negative reviews mentions customer service, with consumers reporting that they had trouble with communication when dealing with PWI for a claim. This is likely because they are not a direct provider, and many back-and-forths must happen between parties before your claim can be resolved. 
The Plans
Learning more about the coverage options available at Endurance Warranty and PWI can help ensure you get the protection you and your vehicle need from costly repairs.
Endurance Warranty
We here at Endurance want to give you confidence for the road ahead, which is why we offer customizable plans to fit your needs and budget. And to help you do that, we offer six main plans you can choose from to help give you the coverage you're looking for, with each automatically giving you 24/7 roadside assistance and towing, trip interruption coverage and rental car reimbursements.
Advantage 
The Advantage plan is Endurance's most comprehensive package that combines comprehensive breakdown protection with up to $3,500 in yearly maintenance services. That means you can protect your vehicle from breakdowns and get help saving on essential maintenance like up to three oil changes (plus filters), tire rotations, alignment checks, engine diagnostic exams, and even help with your car's next mandatory state safety inspection. On top of these yearly services, you can also enjoy several special, single-use services like a brake pad/shoe replacement, cooling system maintenance, and a front or rear wiper blade set replacement for even more coverage and savings.
Supreme
The Supreme plan is an exclusionary coverage plan that can give you near factory-like coverage to protect nearly every component of your vehicle with just a small list of exclusions. It could be an excellent option if you regularly use your car for rideshare or delivery, take long trips, or commute long distances every day.  
Supreme for Highline Vehicles
An extension of the Supreme plan, this coverage helps protect select high-end luxury vehicles that are less than eight years old and have less than 80,000 miles, while some other exclusions and a deductible may apply. Overall though, vehicles that can get covered with Highline include those from automakers such as:
The Superior plan offers the highest level of stated component protection for your vehicle—from the rear suspension to the engine and then some, making it a great option for people who want near-complete coverage for their vehicle.
Select Premier
Select Premier is meant to cover the most high-mileage vehicles and older cars that can be difficult to protect with other vehicle service contracts. This plan covers select lubricated components of the engine, transmission, and drive axle assembly on your vehicle. It also covers the cooling and fuel systems, which are incredibly important if you want to keep your vehicle running. 
Secure Plus
The Secure Plus plan is the second most basic and offers you premium powertrain coverage to fit your budget and includes other crucial components and systems like brakes, air conditioning, and steering. 
Secure
The Secure plan is the most budget-friendly plan that Endurance offers and can give you basic powertrain coverage starting with monthly payments as low as $79. These include the engine, transmission, and other parts that keep the vehicle safe on the road. 
Preferred Warranties, Inc.
As of this writing, PWI's website doesn't initially list its available coverage plans right off the bat. Instead, you can find a breakdown of their coverage by doing some digging and clicking a link at the bottom of the protection plan page. It is also important to note that these plans may only be available for customers in Alaska, Florida and Washington.
Vehicle Protection Plans
Per PWI's claims page, the coverage options under their Vehicle Protection Plans come in three primary levels, including available extra coverage.
Powertrain
The Powertrain plan covers the most vital components of your vehicle, including the engine, transmission, differential and drive system. You'll also find coverage on seals and gaskets and all internally lubricated parts of major systems, though some expectations may apply. You will also find coverage for fluid and filter replacements if required for a repair.
Base
While the name may suggest you get less coverage than the powertrain plan, PWI's Base plan covers all the same components as the Powertrain plan and some additional pieces. The additional components include the electrical system, the brakes, the air conditioning and more. You will also get help with a rental car for three days under this plan.
Plus
The Plus plan expands on the Base and Powertrain plans with additional coverage for the components that control the vehicle and keep it stable on the road, like more parts of the steering system, the fuel system, and even high-tech components.
Extra Mile
If your car still has factory coverage, the Extra Mile can help by covering any deductible you might have to pay to get the coverage you are entitled to with your factory warranty. 
Premier
The Premier plan is Preferred Warranties, Inc.'s version of an exclusionary warranty and is listed separately from the other vehicle protection plans. The Premier plan covers convertible soft tops, upholstery, and aftermarket parts. It also states that regular maintenance services recommended by your automaker can be included in this coverage, though it does not list what this may include. PWI also notes that trip interruption coverage is now available at this level.
Budget
This is the most basic plan that PWI offers and includes coverage for your engine, transmission, and differential. You'll also find coverage for some electrical components like the alternator and coverage for fluids and filters if needed as a part of one of your other covered repairs, excluding air conditioning refrigerant.
Give Your Vehicle the Best Care with Endurance
Whether your new car's factory coverage is just ending or you have an old, reliable high-mileage used vehicle, having the right extended warranty or vehicle service contract can help ensure you're covered from costly breakdowns and repair bills. But while you can get coverage from your automaker or one of the many third-party warranty providers, you can rest easy when choosing Endurance, as you'll be getting award-winning coverage and customer service, industry-leading perks and benefits and flexible payment plans for all kinds of budgets.
Some plans, like the Advantage plan, can even give you breakdown coverage while helping you save up to $3,500 in yearly maintenance services, while others can give you basic powertrain coverage at just $79 per month. Even high-end luxury vehicles can get coverage with Endurance. Plus, all plans also come with a 30-day money-back guarantee, 24/7 roadside assistance, and, with a small activation fee, one year of Endurance Elite Benefits, which includes tire repairs or replacements, collision discounts, key fob replacements and even total loss protection.
To find even more information on how an Endurance auto protection plan can help you, call our award-winning customer care team at (800) 253-8203 or request a free, no-obligation quote today. By visiting the Endurance blog, you can also find even more extended auto warranty comparisons and other articles on automotive topics like DIY maintenance tips, vehicle buying guides, and much more.
More like this
Comparisons

While owning a car is incredibly liberating, it doesn't come cheap. In August 2023, AAA announced that the average annual cost of running and maintaining a vehicle had just passed..

Read More

Comparisons

No matter what kind of car you drive, keeping it in good condition should be one of your top priorities. A vehicle that is well taken care of will last..

Read More

Comparisons

Buying a new or used car can be incredibly exciting, especially if you are buying something you have always dreamed of owning. No matter what kind of vehicle you purchase,..

Read More