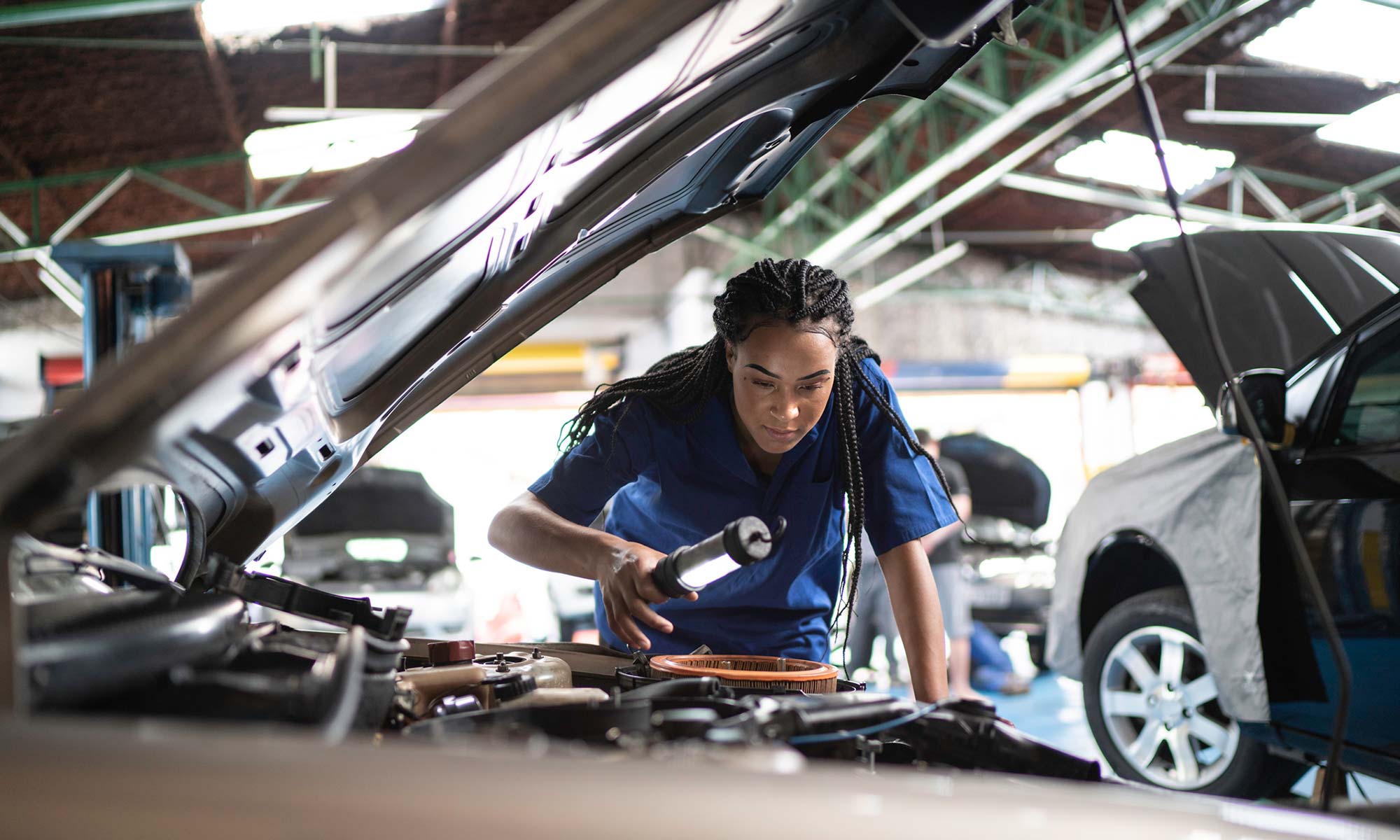 The last thing anyone wants to think about on a summer road trip is unexpected auto repairs. Not only can this slow down the journey, but unplanned expenses can have a real impact on the budget. For those with an older, out-of-warranty car especially, the possibility of a breakdown is higher than you might expect. And with costs ranging from a couple hundred to a few thousand, such as replacing an alternator costing much as $742 or repairing a transmission running up to $5,119, getting coverage for unexpected repairs can be vital, which is where an extended warranty can help. It's peace of mind coverage for unforeseen repairs and expenses.
But not all auto protection plans are created equal. There can be significant differences among the numerous companies offering these plans, including those from your car's automaker and beyond. Instead, finding the right protection for your car begins with understanding extended warranties and how they can help you, like how plans from Endurance Warranty and 1800 Warranty compare.
Understanding Extended Warranties
In order to understand what extended warranties are, it's essential to separate the two types of warranty coverage you can come across. First and foremost, for those purchasing a brand new car, you'll likely receive a factory or manufacturer's warranty that protects against defects in a new vehicle. However, while a factory warranty can provide bumper-to-bumper coverage, it won't last forever, with most automakers limiting their coverage to three years or 36,000 miles (whichever comes first) or for five years or 60,000 miles. You may even see some brands providing coverage for as long as 10 years! But no matter if it's for three, five or 10+ years, once that initial coverage ends, you would be left paying for repairs on your own unless you have an extended warranty. 
Extended warranties can come directly from your automaker like your initial factory coverage, though with some setbacks. For example, while comprehensive, some automakers may limit you to purchasing extended coverage while your factory warranty coverage is still active. So if you've purchased a used vehicle or have had yours for over six years, you may not be able to get coverage. However, while your automaker can't help, you can still get peace of mind from third-party providers like us at Endurance. 
But, while you may often see plans from Endurance and other companies such as Carshield, CARCHEX, Protect My Car (PMC) and more referred to as extended warranties, they are actually vehicle service contracts (VSCs), as only your automaker can really "extend" your coverage. Still, depending on the selected vehicle service contract you choose, you can get coverage similar to your vehicle's factory warranty or find plans that focus on vital systems like the engine and transmission that you're hoping to cover. 
Other differences between factory warranties and extended warranties or VSCs include where you can go to get any needed car repairs. Specifically, factory warranties or extended car warranties from automakers may require you to get repairs done ONLY at an authorized car dealership. So while that may be fine if you're close to home and not in a rush, you'll have no other choice if the dealer is hard to get to or too busy to service your vehicle quickly. On the other hand, Endurance and many other vehicle protection plan providers allow policyholders to choose any certified repair shop or ASE Certified mechanic for repairs, including going to the dealership.
The Companies
Endurance Warranty
Established in 2006, Endurance Warranty has grown to become America's largest vehicle service contract provider. Headquartered in Northbrook, IL, Endurance offers a broad range of affordable plans with unmatched eligibility, including vehicles up to 20 years old, high mileage vehicles, Canadian Grey Market vehicles, commercially used vehicles like those used by rideshare or delivery drivers, and even salvage or rebuilt title vehicles. Even select high-end luxury vehicles can get coverage with Endurance. And best of all, coverage plans can start as low as just $79/month and even come with a 30-day money-back guarantee so you can be certain you get the right plan for your needs and budget. 
Every Endurance customer can also get even more peace of mind thanks to complimentary 24/7 roadside assistance and towing, trip interruption coverage, and rental car reimbursements to get back on the road fast no matter where you are. And for just a small $20 fee, you can activate an entire year's worth of exclusive Elite Benefits, including tire repair and replacement services, key fob replacements, collision discounts, and even total loss protection ($1,000 limit).
And apart from providing industry-leading coverage and eligibility, what truly sets Endurance apart from most other providers is that we are a direct administrator for most of our plans. So while many other companies are merely marketing efforts that promote plans from a faceless enterprise, you won't have to worry about dealing with a middleman when you have Endurance. Instead, you'll work with the award-winning Endurance care team throughout your entire claims process to help you get back on the road faster. You'll also be given access to the Endurance Mobile app, where you can do everything from checking on the status of a claim, requesting roadside assistance and more—right from the palm of your hand. Plus, most Endurance plans are also transferable and come with a 30-day money-back guarantee to help ensure you have the right plan for you and your vehicle.
1800 Warranty
Based in New Jersey, 1800 Warranty provides a straightforward, four-level approach to vehicle service contracts. Coverage options are available for 2000 model year or newer cars with less than 200,000 miles. The company is also a hybrid operation in the industry, as they directly handle claims and customer service, but another firm provides the actual service contracts.
And like Endurance, customers of 1800 Warranty can visit any ASE Certified repair shop, and every plan comes with 24/7 roadside assistance, rental car coverage, and a 30-day money-back guarantee. All plans come with complimentary ID theft protection and the option to add wheel and tire protection.
The Plans
Endurance
Along with being eligible at any certified repair facility or technician, each Endurance plan also comes with several standard benefits, including trip interruption coverage, rental car reimbursements and 24/7 roadside assistance and towing. 
Advantage
Endurance's Advantage protection plan is the only plan in the industry where you can find extensive component protection with up to $3,500 in vehicle maintenance services, including tire rotations, alignment checks, PSI checks, engine diagnostic exams and even help on your vehicle's next state safety inspection. Plus, each Advantage plan also comes with several special, one-time services, including a battery replacement, a brake pad/shoe replacement, cooling system maintenance, and more. 
Supreme
The Supreme plan offers exclusionary protection that closely matches manufacturer-level coverage, making it a great choice for drivers who rely on their vehicle daily while only dealing with a small list of exclusions. 
Supreme for Highline Vehicles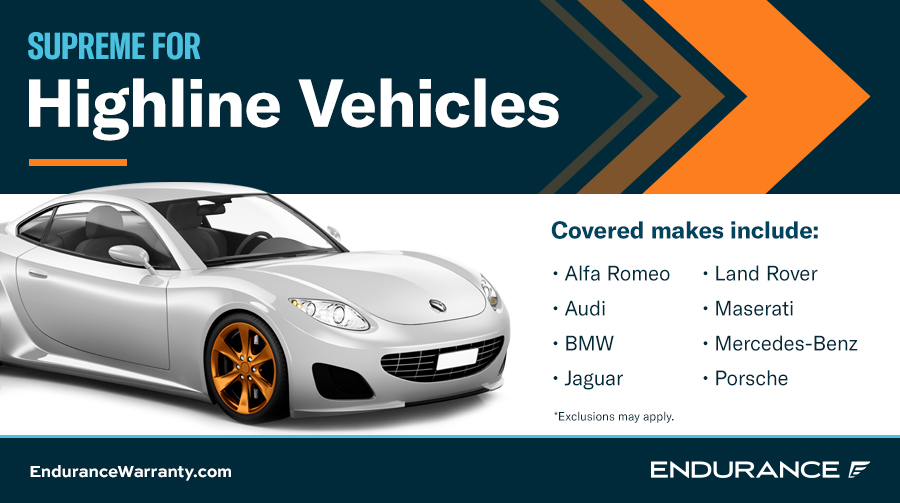 Owning a high-end luxury vehicle can be thrilling yet expensive—and we're not just talking about their sticker price. Between custom, high-performance parts and state-of-the-art technologies, repairing a luxury vehicle can add up, which is where the Highline protection plan can help. As an extension of the comprehensive Supreme protection plan, those with Highline can get the coverage they're looking for on select luxury vehicles up to eight years old with less than 80,000 miles. That means owners of popular vehicles from luxury brands like Land Rover, BMW, Jaguar, Maserati, Alfa Romeo, Audi, Mercedes-Benz, and Porsche can rest easy knowing Endurance has them covered.
Superior
The Superior protection plan from Endurance comes with our highest stated component coverage—from your car's rear suspension to the engine—so you can be certain that no matter what goes wrong, you'll have help.
Select Premier
For those with high-mileage vehicles with up to 150,000 looking for premium coverage, look no further than the Select Premier plan. Essential components, including certain air conditioning and electrical parts, are protected in the event of a breakdown. You'll even find coverage for select parts of your air conditioning and electrical systems with Select Premier.
Secure Plus
Affordable coverage and peace of mind come together with the Secure Plus plan. Vital vehicle components such as the engine, transmission, brakes, steering, and air conditioning are protected along with the electrical and other systems. 
Secure
Just below Secure Plus, the Secure plan provides an even more budget-friendly coverage option without breaking the bank. Coverage includes protection for lubricated parts from the engine, transmission, and water pump.
1800 Warranty
The company provides vehicle service contracts through four plans with increasing levels of coverage. Each is also offered as a monthly subscription service and has the option to add tire and wheel protection on each level. 
Level 1
Starting as low as $39, 1800 Warranty lists this level of coverage as their basic plan, covering many of the main parts of a vehicle such as the engine, transmission, and drivetrain parts. However, components that are a part of your steering, suspension, brakes, A/C and electrical will not be covered.
Level 2
Level 2 builds off Level 1 coverage and adds protection for the steering and elements of the electric system, A/C, suspension, and brakes (anti-lock brakes are specifically excluded though). With this increase in components, you'll also see a price increase, with Level 2 coverage starting at $44. 
Level 3
Choosing Level 3 will get you coverage starting at $48 and will include anti-lock brakes and other "Miscellaneous Components" like parts for the fan, fuel tank, heater, and radiator. You'll also find coverage on other sets of components ranging from your engine, transmission, drivetrain, steering, suspension and more with just a few exceptions. 
Level 4
As their highest level of coverage, Level 4 starts at $55 and combines all the features of the lower plans plus expanded coverage for the suspension compared to the Level 3 coverage. It's also the only plan from 1800 Warranty that covers mounts. 
Keep Your Vehicle Running with Endurance
Whether it occurs during the summer or other times of the year, a breakdown is sure to affect your plans. And while a manufacturer's warranty coverage can help, this coverage only lasts for a limited time, leaving you liable for paying any repair bills on your own. Instead, protect yourself, your vehicle and your wallet with an Endurance auto protection plan. 
Picking up where your factory coverage leaves off, each Endurance plan can help protect your vehicle from unexpected car repairs without breaking the bank. Plus, Endurance covers vehicles that many other companies don't, like high-mileage cars, luxury vehicles, and more. You can even combine your coverage with up to $3,500 in regular maintenance services like oil changes, engine diagnostic exams and more with the Advantage plan, something you won't find in any other warranty or service contract. 
Additionally, every Endurance plan will also come with round-the-clock roadside assistance and towing, rental car reimbursements, trip interruption services, a 30-day money-back guarantee, and flexible payment plans. And all Endurance customers can enjoy one year of Endurance Elite Benefits for just a small activation fee, including extra perks and savings like up to two tire replacements or repairs, key fob replacements, collision discounts, and even total loss protection. 
Get started by requesting a free, no-obligation quote or call (800) 253-8203 to speak with an award-winning Endurance representative to help you find the right plan for your needs and budget. Also, don't forget to check out the Endurance blog for even more expert-written articles on topics like DIY maintenance how-tos, expert auto tips, road trip planning guides and more.
More like this
Comparisons

While owning a car is incredibly liberating, it doesn't come cheap. In August 2023, AAA announced that the average annual cost of running and maintaining a vehicle had just passed..

Read More

Comparisons

No matter what kind of car you drive, keeping it in good condition should be one of your top priorities. A vehicle that is well taken care of will last..

Read More

Comparisons

Buying a new or used car can be incredibly exciting, especially if you are buying something you have always dreamed of owning. No matter what kind of vehicle you purchase,..

Read More