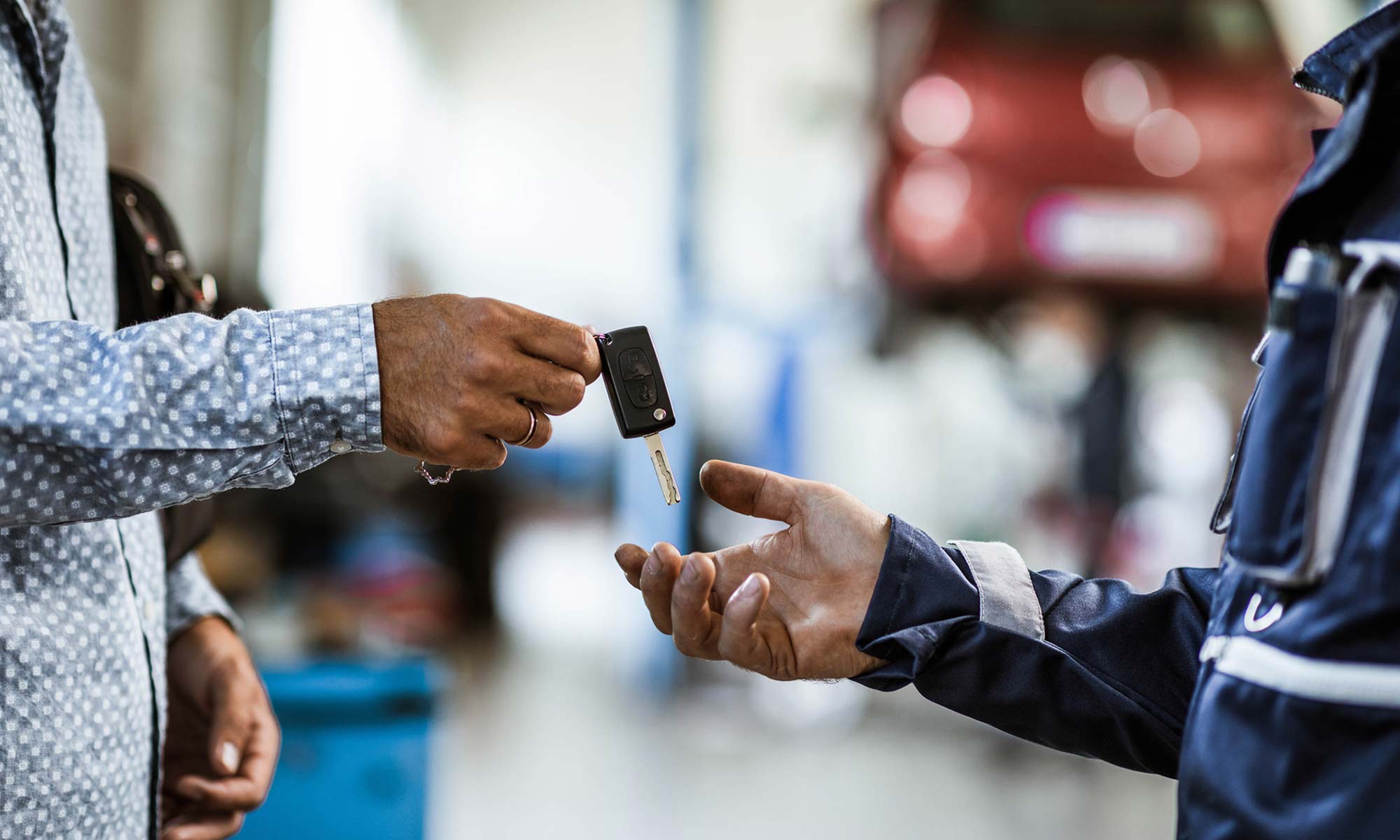 If you're looking to buy any new or used car, truck or SUV, there's plenty to consider. From looking up specs such as fuel economy, towing capacity, available safety and more, finding the right vehicle for you and your needs is more than just finding a vehicle in your price range. In fact, you also need to consider annual maintenance expenses, unanticipated repairs, and other issues that can quickly add up if you aren't prepared.
By purchasing an extended car warranty or a vehicle service contract, especially if you have a used vehicle, you can get peace of mind when it comes to unexpected auto repair bills.
What Are Extended Car Warranties?
As a driver, you're most likely aware that having auto insurance to help give your vehicle protection against accidents, theft or damages caused by severe weather is a must-have by law. You may have even invested in some mechanical breakdown insurance (MBI) to help cover the cost of wear and tear kinds of repairs. But, while these insurance policies can provide you with a variety of coverage options for repairs, they can't cover everything. In fact, MBIs are only available for vehicles under a year old while also having less than 15,000 miles on them. 
You may even still have a factory warranty on your vehicle, which your vehicle's manufacturer provides and comes standard with purchasing any new vehicle from a dealership. This warranty coverage will help cover your vehicle from the cost of certain repairs and issues for a specific amount of time after purchase, most usually lasting somewhere between 3 years/36,000 miles or 5 years/60,000 miles. Some automakers may even provide factory coverage for as long as 10 years/100,000 miles as well.
Some of the most common types of factory warranty coverage your vehicle may have can include:
Powertrain – A powertrain warranty helps cover issues related to your vehicle's engine, including if you have a problem with a faulty oil pump or fuel injector.
Bumper-to-Bumper – As the most expansive type of warranty coverage you can find, a bumper-to-bumper warranty covers everything between your vehicle's front and rear bumper, including being able to help with dents and scratches.
Corrosion – This sort of protection is excellent for residents of regions with a lot of rain or harsh winter weather to help protect against rust and other corrosive issues, such as those found in places that use road salt in the winter.
Emissions – An emissions warranty is a form of coverage that can pay for the cost of repairs to your vehicle's engine, which is usually after 90 days or 3,000 miles. An emissions warranty will also cover the cost of repairs for any car, truck or SUV that lacks a catalytic converter. If you reside in a state or region where emission inspections are necessary, remember that if your car does not pass an emissions test, it will invalidate your emissions warranty.
But, while these types of factory warranty coverage can give you coverage on almost every single component of your vehicle, it's important to remember they won't last forever. This is especially important to keep in mind if you have recently purchased or are looking to purchase a used car, as anything over five years old most likely doesn't have any factory coverage anymore, which is where an extended warranty comes in. 
This type of coverage, while commonly referred to as an extension of any factory warranty you have, is not actually a warranty by definition. Instead, extended warranties are known as vehicle service contracts (VSCs) within the industry and help provide you and your vehicle with a wide variety of coverage options that can help cover the cost of repairs and breakdowns similar to your factory warranty. 
However, while they may not provide as extensive coverage as a complete bumper-to-bumper factory warranty, vehicle service contracts can still give you comprehensive breakdown protection that doesn't expire after a certain number of miles. Some VSC or warranty providers can even offer you additional benefits, such as complimentary towing, while others, such as Endurance, can even help with essential maintenance. 
The Companies
Endurance Warranty
Since 2006, Endurance Warranty has been the nation's leading provider of auto protection plans. Thanks to our combination of comprehensive yet affordable coverage options, extra Elite Benefits, complimentary 24/7 roadside assistance and other perks and savings to help give drivers like you the peace of mind you need for the road ahead. We're also a direct administrator of each of our auto protection plans, meaning we'll be working directly with you throughout your entire claims process, helping you get back on the road faster without worrying about any expensive out-of-pocket repair bills. You can even choose which certified repair facility or ASE Certified mechanic you take your vehicle for repairs. Not only that, but most Endurance plans are also transferable, helping you to upsell your vehicle whenever you plan on selling it. 
Toco Warranty
Toco Warranty Corporation was established in 2013 in West Hills, California, with backing from AmTrust Financial Services. Since then, Toco has become well-known for their low up-front fees, with the cost of their service contracts being based on your vehicle's age, make, model and mileage. Customers will also not need to put a down payment and can instead "pay as you go." Toco also notes that you can cancel coverage at any time, though they state a cancellation fee may apply.
The Plans
Both Endurance and Toco offer component breakdown coverages, but with several key differences. Learning the critical distinctions between these two companies' protection plans could help you decide which is best for you and your car. We've compiled a detailed comparison of each Endurance and Toco protection plan to help get you started.
Endurance Protection Plans
Regardless of the Endurance protection plan you purchase, you will also get the extra peace of mind knowing you'll automatically have 24/7 roadside assistance, trip interruption coverage and rental car reimbursements. You will also be eligible for a full year of Endurance Elite Benefits for just a $29 activation fee whenever you purchase an Endurance plan. This includes extra perks and savings such as collision discounts, key fob replacements, total loss protection, and even two replaced or repaired tires. Some Endurance plans can also help by covering luxury vehicles and even hybrid vehicles, though hybrid batteries are excluded. You will also benefit from a 30-day money-back guarantee so you can be sure you get the right plan for yourself and your vehicle.
Advantage
It is hard to find an auto protection package as comprehensive as Advantage. Not only can it help you save when it comes to auto repair bills, but it can also give you up to $3,500 in regular maintenance coverage — helping you to extend the life of your vehicle. That includes services such as oil changes, tire rotations, alignment checks, engine diagnostic exams and more, including coverage for any state safety inspections your vehicle must undergo. You'll even get several special, one-time services, including battery replacement and cooling system maintenance. You'll also have unrivaled eligibility, including coverage for salvaged or rebuilt vehicles, Canadian Gray Market vehicles, seals and gaskets, and more with no mileage limits. Rideshare and delivery drivers can also find coverage with this plan.
Supreme
The Supreme protection plan's exclusionary coverage is perfect if you rely heavily on your vehicle. It covers almost every part of your vehicle while only having a small list of exclusions.
Supreme for Highline Vehicles
This extension of the comprehensive Supreme plan is designed specifically to help cover a select number of luxury vehicles under eight years old and have less than 80,000 miles from automakers such as BMW, Porsche, Audi, Jaguar, Land Rover and more. Some exclusions will apply, along with a $500 deductible.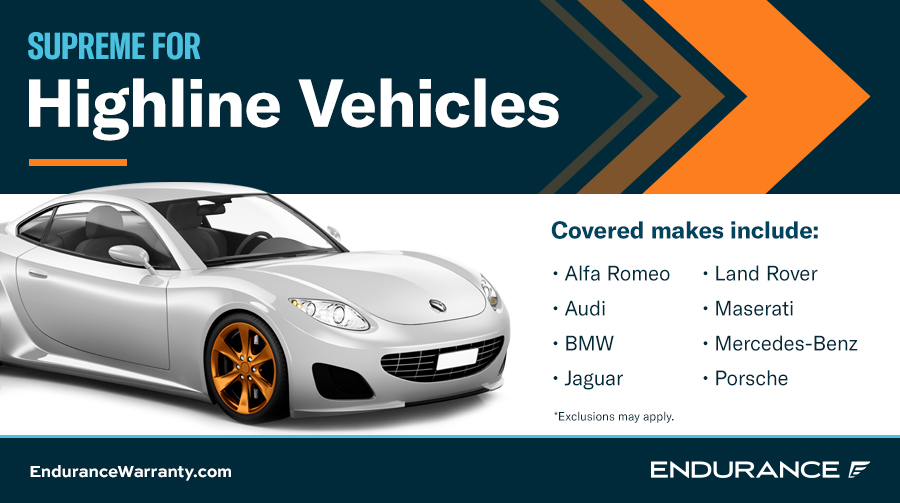 Superior
If you are looking to cover the most components you can in your vehicle, then the Superior protection plan is the perfect choice for you. With the highest level of stated component coverage, this plan can help give you peace of mind no matter which part of your vehicle needs repairs.
Select Premier
If you have a high-mileage car with less than 150,000 miles, the Select Premier plan is the best choice. This protection plan can give you premium auto coverage to help give you confidence that all of your most essential components are covered and various A/C and electrical parts.
Secure Plus
The Secure Plus plan is excellent for daily drivers looking for exceptional powertrain plus protection. By focusing on significant components such as your car's brakes, transmission, air conditioning, steering, and more, the Secure Plus plan helps guarantee that your vehicle will operate well for longer at a reasonable cost.
Secure
Siting just a step below the Secure Plus plan, the Secure plan is the plan for you if you use your vehicle every day and want basic powertrain coverage to protect you from the most expensive types of repairs.
Toco Plans
Toco offers 24-hour roadside assistance, trip interruption coverage, rental car benefits and hotel discounts as added benefits to each plan.
Orange 
Toco's top plan is the Orange plan, which like the Supreme plan from Endurance, offers exclusionary coverage. This means you can find coverage for vital components such as your engine, transmission, axles, A/C, electrical and more. However, Toco lists that some of the exclusions will apply, including maintenance parts like spark plugs and shocks & struts, and not covering maintenance services, aftermarket alterations, and non-normal title status.
Yellow
The Yellow level is a listed parts coverage plan. You will find a list of what components are and are not covered, along with an explanation of any situations where your plan might not cover your repairs or breakdowns. However, this coverage option will protect your engine, transmission, drive axle, fuel system, brakes and more. This coverage will also have all of the same exclusions as the Orange coverage.
Blue
Like Toco's Yellow level of coverage, the Blue level is a listed-parts coverage level, so what specific components will and won't be covered will vary, as well as some situations as well. The Blue plan is also a listed parts coverage. However, per their site, the Blue level looks to cover about half of what the Yellow level covers. 
Green
The green level is Toco's most basic coverage level and is again a listed-parts coverage. However, covered parts will include the engine, transmission, drive axle, 4×4 transfer case, turbo, and will have a  hybrid vehicle option.
Why Endurance Is the Best Choice for Protecting Your Vehicle
Just as it's critical to learn everything you can about a car before buying it, the same goes for an auto protection plan. By learning more about the different levels of coverage options provided, available perks and standard benefits, you can be confident that you'll find the right plan for you.
With an Endurance protection plan, you can rest easy knowing we'll help cover your vehicle's most essential components from expensive car repairs not covered by your auto insurance policy. Luxury vehicle owners can also get peace of mind when it comes to expensive repair costs with the Highline protection plan. You'll also benefit from having 24-hour roadside assistance, trip interruption coverage, and rental car reimbursements to help ensure you get back on the road faster regardless of your Endurance plan. And in case you decide Endurance is the right provider for you, you have a 30-day money-back guarantee you can rely on.   
The Advantage protection plan can even help you save up to $3,500 on your car, truck, or SUV's regular maintenance needs on top of comprehensive breakdown protection. That means you can get regular maintenance services such as up to three oil and filter changes, tire rotations, alignment checks, engine diagnostic exams and more. Not only that, but each Advantage package can also help you save with several other special, one-time services, including cooling system maintenance, a battery replacement and more, giving you even more coverage and savings. 
New and existing Endurance customers will also automatically be eligible for a year's worth of Elite Benefits when purchasing any Endurance plan. All you have to do is pay a small activation fee and enjoy your year's worth of extra perks and savings, including collision discounts, key fob replacements, tire replacements or repairs and more.
For additional information about why Endurance is the best choice for protecting your vehicle, call our award-winning care team directly at (800) 253-8203 or request a free quote. You can also discover even more extended auto warranty comparison guides and other helpful and informative articles on expert auto tips, DIY maintenance how-tos, vehicle buying guides and much more by visiting the Endurance blog.
More like this
Comparisons

While owning a car is incredibly liberating, it doesn't come cheap. In August 2023, AAA announced that the average annual cost of running and maintaining a vehicle had just passed..

Read More

Comparisons

No matter what kind of car you drive, keeping it in good condition should be one of your top priorities. A vehicle that is well taken care of will last..

Read More

Comparisons

Buying a new or used car can be incredibly exciting, especially if you are buying something you have always dreamed of owning. No matter what kind of vehicle you purchase,..

Read More