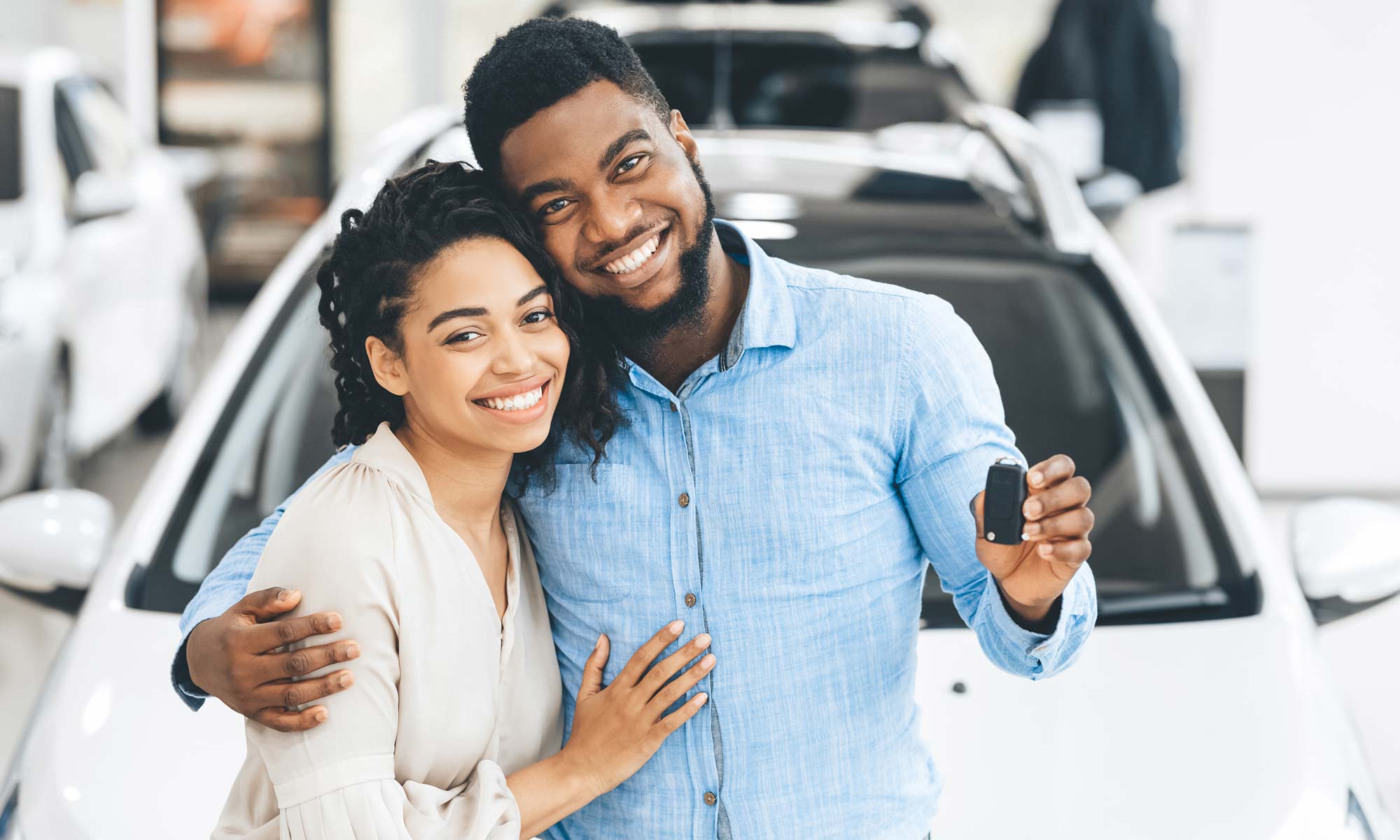 There is nothing quite like the feeling of buying a brand-new car from a dealership. The thrill of the all-new interior, that "new car smell," and the peace of mind of a comprehensive bumper-to-bumper factory warranty that comes with a new car are all great reasons for any potential car buyer to consider a new car. But, when faced with higher than normal car prices or if you're shopping on a budget, the value of purchasing a used car is undeniable. 
In fact, since 2020, the number of drivers purchasing pre-owned vehicles has grown, with the number of used vehicle sales surpassing new car sales. And while many of these cars may not come with an active factory warranty, drivers can have peace of mind that their investment is protected, even when buying used, with the right extended warranty. But, with so many providers to choose from, it can be hard to determine where you should begin your search. 
That's why comparing the coverage plans and additional benefits available from the various companies, like Endurance Warranty and EasyCare, can help ensure that you're finding the right coverage for you and your vehicle.
What Do Extended Warranties Cover?
One of the attractive benefits of purchasing a brand-new vehicle is undoubtedly the manufacturer's warranty, also known as a factory warranty. Although insurance protects you and your investment in the event of an accident, a warranty takes financial protection one step further by covering or reducing costs if something on the vehicle should break, even if it isn't accident-related. A warranty is a contract with the auto manufacturer obligating them to repair, replace, or reimburse the cost of any vehicle parts that fail or break due to poor craftsmanship or defects. However, even the most inclusive factory warranties have limitations, often excluding notoriously high wear-and-tear parts, such as tires. 
In general, though, most factory warranties will be able to provide you with the following types of coverage:
Powertrain: A powertrain warranty protects against any issues with the significant components necessary to make your vehicle drive, like your engine, driveshaft, transmission and differential. 
Bumper-to-Bumper: A bumper-to-bumper warranty, often called a new vehicle limited warranty, offers the most comprehensive coverage available for your car, covering the cost for most mechanical breakdowns between your front bumper and rear bumper, as the name implies. 
Corrosion: Corrosion protection protects drivers concerned with rusting and other corrosive damage to your car's body panels.
Emissions: Emissions warranty contracts cover the cost of critical emissions components' repairs, including any part imperative to pass an emissions test, such as the catalytic converter. 
Regardless of what kind of factory warranty coverage a new vehicle has, it won't last forever, with most automakers having coverage anywhere from 3 years/36,000 miles to 5 years/60,000 miles. Some may even provide you with even more coverage options that can last for as long as 10 years/100,000 miles. But, regardless if the coverage is for a few years or a decade, once you've hit that coverage limit, you'd no longer be protected from repairs. Instead, you can often look to extend your warranty coverage with your automaker.
However, while this coverage will be very similar to the vehicle's original warranty, there are some drawbacks. Mainly, for many automakers, this extended coverage needs to be purchased while the original warranty is still active, meaning if you've purchased or are considering purchasing a used car, you'd be out of luck getting coverage with them. Instead, the best way to get peace of mind regarding unexpected breakdowns and repairs is with a vehicle service contract (VSC).
Like a factory or extended warranty from an automaker, a vehicle service contract can provide you with the same comprehensive coverage that can pick up where the factory warranty ends. You may often hear these plans referred to as an extended warranty, though technically, only your automaker can "extend" a car's original warranty coverage. Still, despite not being a warranty by definition, plans offered by third-party companies like Endurance Warranty or EasyCare can save on repair bills not covered by any auto insurance, GAP coverage or mechanical breakdown insurance policy you may have. 
What Can Void an Extended Car Warranty
Auto protection plans aren't without limitations, however. Reviewing your warranty or vehicle service contract, you'll find a "Cancellations" section outlining how and why your provider may cancel or void your protection plan coverage. For example, a warranty provider may cancel a protection plan due to issues with your title, ineligible vehicle modifications, failing to use your vehicle for its intended purpose, or disregarding the vehicle maintenance schedule. 
The Companies
Like no two vehicles are exactly alike, neither are warranty providers. Unfortunately, the car warranty industry has become the source of many jokes and memes because, unfortunately, some companies operate to scam drivers into purchasing a vehicle service contract and never providing coverage or paying claims. So, it is just as it's vital to do your research to find reliable extended coverage that suits your lifestyle and your budget, including checking resources like the Better Business Bureau (BBB) and more. After all, there is no shortage of auto warranty companies, including us here at Endurance Warranty or EasyCare, as well as ProGuard, CARCHEX, Concord Auto Protect, CarShield, Olive, and Protect My Car (PMC), to name a few. That's why knowing everything you need about the peach company offered by each company, like those from Endurance and EasyCare, can help you find the right coverage while knowing that you won't be dealing with a scam.
About Endurance Warranty
Based out of Northbrook, Illinois, Endurance Warranty Services has been the nation's leading auto protection plan provider since 2006. We offer coverage options for any driver in nearly any type of vehicle with any driving habits. Even owners of high-mileage vehicles, vehicles up to 20 years old, Canadian Grey Market vehicles, salvage or rebuilt title vehicles, high-end luxury cars, or commercially used vehicles like those used for delivery and rideshare services can get covered with Endurance. 
Plus, each Endurance protection plan has flexible payment plans to fit your needs and budget on top of a risk-free 30-day money-back guarantee to ensure you have the right plan for you. The claims process is also easy to file and use as we're a direct provider of most of our plans. We also help make your customer experience as straightforward as possible by handling everything in-house, from quote to claim, and you can have your covered repairs done at any certified repair shop or ASE Certified mechanic. In addition, every plan comes with standard benefits like 24/7 roadside assistance and towing to take you to the nearest repair facility, trip interruption coverage, and rental car reimbursements. You'll even get access to the easy-to-use Endurance Mobile app, where you can get everything from your policy information to your available benefits right in the palm of your hand. 
You can even activate a year's worth of Endurance Elite Benefits, which include extra perks and savings like tire coverage, collision discounts, key fob replacements and even reimbursements if your car is ever deemed a total loss. And best of all, Endurance plans are transferable, which means that if you sell your vehicle, the new owner will also reap the benefits of your warranty, potentially increasing the value of your car.
About EasyCare
EasyCare began in 1984 when it set out to change the negative connotation associated with the car buying and vehicle service experience. By the 1990s, EasyCare was a nationally recognized brand, and in 2005, it became an accredited business with the BBB. In total, there are four EasyCare vehicle service contracts to choose from—TotalCare, StatedCare, PrimaryCare and PowerCare. Depending on the level of the EasyCare protection plan you choose, your coverage can range from comprehensive, near bumper-to-bumper coverage to a more basic powertrain warranty.
Like Endurance Warranty, all EasyCare extended protection plans are also transferable and come with benefits such as roadside assistance, trip interruption coverage, and rental car reimbursements. You can also add additional benefits, such as tire and wheel road hazard protection, guaranteed asset protection (GAP), and theft protection.  
The Plans
The best way to find the right extended warranty coverage for your needs is to understand the different types of coverage available and what each car warranty company covers.
Endurance Warranty Plans
While Endurance plans are customizable to fit your needs and budget, there are standard plans you can begin with to get the coverage you're looking for.
Advantage
Advantage is Endurance's most comprehensive coverage plan featuring breakdown protection and yearly maintenance coverage. More specifically, with Advantage, you can save up to $3,500 on some of your car's essential maintenance needs, like oil changes, tire rotations, engine diagnostic exams, alignment checks and more. In addition, you'll have access to one-time services like cooling system maintenance, a battery replacement, a brake pad or shore replacement, and a wiper blade set replacement to give you even more coverage and savings.
Supreme
The Supreme plan is ideal for anyone shopping for a near-factory-like extended warranty plan with minimal exclusions. So if you rely on your vehicle for daily commutes, this exclusionary coverage plan offers the protection you need to keep you on the road.
Supreme for Highline Vehicles
Luxury vehicles are often associated with notoriously high repair costs, which is why many auto warranty plans exclude luxury vehicles like Jaguar, Porsche, Land Rover, BMW, and Mercedes-Benz—but not Endurance. With this extension of the already comprehensive Supreme plan, the Highline vehicle protection plan offers owners of select luxury vehicles up to eight years old and less than 80,000 miles the coverage they need when it comes to the high cost of luxury car repairs. A deductible may apply.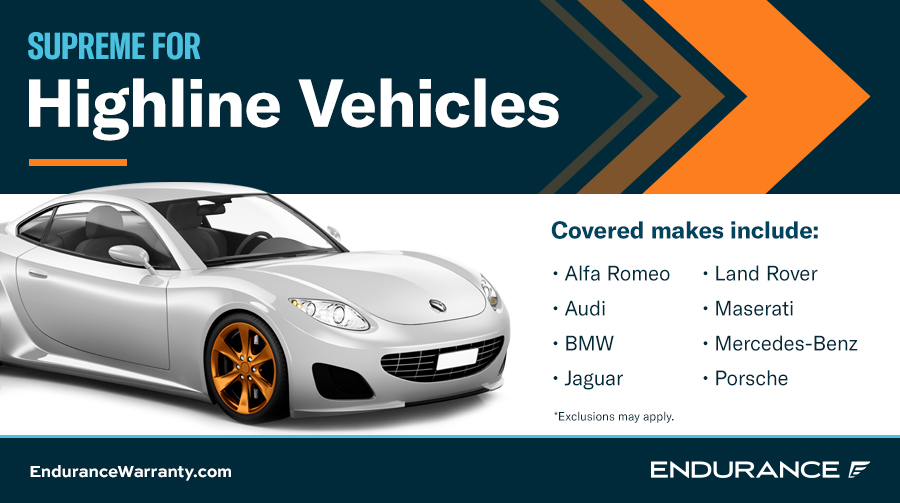 Superior
Endurance's Superior protection plan is comprehensive, including the most component coverage of all Endurance plans, making it an excellent option for people who rely on their car as their daily driver or enjoy frequent road trips. 
Select Premier
Select Premier plan offers premium protection for car owners with high-mileage vehicles up to 150,000 miles and focuses primarily on vital vehicle components. For example, this warranty covers the repair costs for select lubricated internal engine parts, transmission, and drive axle assembly. Select Premier also covers the electrical, cooling, heating and fuel systems to keep your car running smoothly and comfortably.
Secure Plus
The Secure Plus plan is a step above the Secure plan, boasting more powertrain coverage for minimal additional costs. Secure Plus offers warranty coverage for your brakes, air conditioning, steering and electrical components. It also features the shortest wait period of any Endurance warranty plan.
Secure
The Secure plan offers basic coverage, covering all the essentials of the car, including costly repairs such as engine and transmission. The Secure plan is affordable, starting at a monthly payment of just $79 per month, making it an excellent choice for anyone looking for coverage for their car without breaking their budget.
EasyCare Vehicle Service Contracts
EasyCare offers four vehicle service contracts, each with an increased level of component protection.
TotalCare
TotalCare is EasyCare's most comprehensive package and is an exclusionary plan, covering nearly all vehicle components except those expressly excluded, such as pre-existing conditions, aftermarket radios, and lightbulbs. This plan also covers many electric vehicle components, such as the electrical, braking and cooling systems.
StatedCare
StatedCare covers all of the major systems that TotalCare does but without the exclusionary coverage. 
PrimaryCare
PrimaryCare is an EasyCare protection plan that covers the basics, plus a little more, like the drive axle and the engine, as well as heating, cooling and brake repair. You'll also still be able to get coverage for electric vehicles, minus high-tech components and their electrical system. And, unlike TotalCare and StatedCare, PrimaryCare will not cover suspension, steering, electrical system and various high-tech components of gas-powered vehicles.
PowerCare
PowerCare is EasyCare's most basic level of coverage for a car's powertrain, including parts like the transfer case, drive axle, seals, and gaskets. With EasyCare, electric vehicles (EVs) are also covered, but only for their battery and transfer case.
Get Peace of Mind with Endurance
Just as you should take the time and do the research when searching for your next vehicle, the same should be done when looking for coverage. After all, with all of the various vehicle service or extended car warranty providers out there, not doing the research can lead to you paying for repairs and breakdowns you might otherwise have gotten covered for. That's why taking the time to learn the ins and outs of the coverage plans and benefits that the various providers have, like those from Endurance Warranty and EasyCare, can ensure you're getting the best coverage for your vehicle.
And at the end of the day, while all reputable providers can give you some forms of coverage to protect your vehicle, only Endurance combines the comprehensive coverage you're looking for with industry-leading benefits and eligibility. Plus, with an Endurance vehicle protection plan, you can drive confidently with award-winning coverage and complimentary benefits like 24/7 roadside assistance, including lockout services and towing. You'll also have rental car reimbursements and trip interruption coverage, so no matter where you are, Endurance will have you covered.
All plans also come standard with a risk-free 30-day money-back guarantee and the chance for you to activate a full year of Endurance Elite Benefits, including tire replacements or repairs, collision discounts and other perks and savings.
Learn more about Endurance auto protection plans by calling the Endurance customer care team at (800) 253-8203 or request a free, no-obligation quote today. You can also find more information on extended warranties, DIY car maintenance, and more by visiting the Endurance blog.
More like this
Comparisons

While owning a car is incredibly liberating, it doesn't come cheap. In August 2023, AAA announced that the average annual cost of running and maintaining a vehicle had just passed..

Read More

Comparisons

No matter what kind of car you drive, keeping it in good condition should be one of your top priorities. A vehicle that is well taken care of will last..

Read More

Comparisons

Buying a new or used car can be incredibly exciting, especially if you are buying something you have always dreamed of owning. No matter what kind of vehicle you purchase,..

Read More