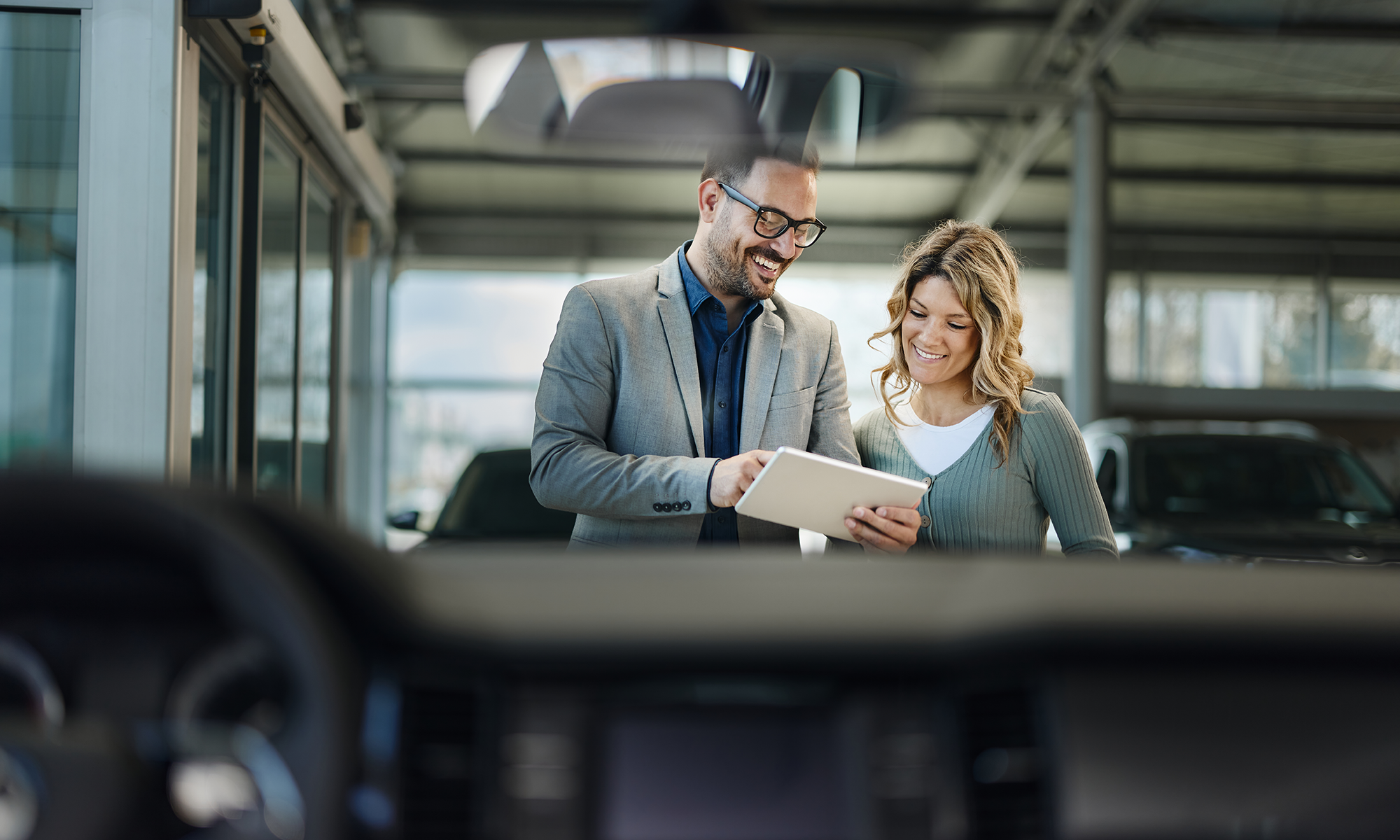 The holidays are officially in full swing, and end-of-year sales are everywhere you look. If you're in the market for a new car or a more budget-friendly used car, the holiday season could be a great time to buy a car and a great deal, whether you're car shopping online or at a dealership. However, as with any significant purchase, it's essential to research your options to ensure you're getting the best vehicle. Along with considering factors such as fuel economy, reliability ratings, maintenance costs, and overall purchase price, it's essential to consider your comfort while driving. 
Automakers design their vehicles based on the current population averages. The further you are from the designated "average," the more complications you'll have when driving some cars. Therefore, if you're shorter than average height (5'6" and under), finding a vehicle that meets your comfort and safety needs is another critical factor to consider when buying a car. 
We're here to provide you with great options, whether short or tall, need more cabin space, prefer comfort for long road trips, and more.
What to Look For in a Car
Finding the right car is more than getting one you can afford. Making sure you're comfortable or not struggling to see over the steering wheel is essential, which is why knowing what to look for in a car is crucial.
If you're on the shorter side or have other unique needs for your stature and build, you'll understand that driving a car can come with various challenges. For example, if you're taller than average, a compact vehicle will not likely be your most comfortable option. Likewise, if you're shorter, you'll want to consider factors that keep you comfortable and with good visibility to ensure you stay safe wherever the road takes you. Here are some factors that you may want to think about when comparing cars for short drivers:
Overall cost: 

One of the most important factors to consider when choosing a vehicle is the overall cost of the car. This includes not just the purchase price of the vehicle, but ongoing costs, like fuel, maintenance, and insurance. If you're looking to save, especially with

high new car prices

, purchasing a used vehicle can be your best choice.

Reliability ratings:

Reliability ratings can be a good indicator of the vehicle's dependability based on the average cost, frequency, and severity of unexpected breakdowns reported. The higher the reliability rating, the less likely mechanical breakdowns will inconvenience a driver. 

Design: 

Although you shouldn't typically consider design as important as overall cost and reliability, it is essential to consider your lifestyle and how it will fit with the car's design. For instance, a pickup truck may be better than a midsized sedan if you're looking for a vehicle with towing capabilities. 

Adjustable seating:

If you're shorter or more petite, your seat must be comfortable, but you'll also want your seats to adjust forward and back, as well as up and down, to ensure you're comfortable and able to see. Your driving position must ensure that you can comfortably reach the brake pedal while allowing ample space between yourself and

your steering wheel

 to keep you safe in case of 

airbag deployment

. 

Flexibility: 

When you're under 5'6", your seat isn't the only thing that should be adjustable. Consider vehicles with tilt and

telescoping steering wheels

, power mirrors, and power-adjustable foot pedals to help you find a comfortable seating position with a clear view. 

Window sizes: 

Large windows allow shorter drivers to turn around more easily and check blind spots. Sporty vehicles with small windows may require drivers to shift out of their driving position to look around their seats and glance out the window whenever they want to change lanes.

 

Safety features: 

Fortunately, safety technology is expanding and evolving with each new model year. Even used cars nowadays come equipped with standard safety features that far exceed anything you could find in decades like the 

1990s

, 

1980s

, and even the 

early 2000s

. With lane departure warnings, blind-spot monitors, reverse parking cameras, and proximity sensors, drivers of all statures can drive more safely and confidently. 

Upgrade options: 

No matter your size, it is essential to weigh your must-haves and your wants when upgrading features and trims. If you're looking for the most advanced safety features, a turbo engine, upholstered leather seats and a moonroof, consider vehicles with upgraded trim options. 
The Best Cars for Short People
Drivers come in all shapes and sizes, each with their own needs and lifestyles. No vehicle is a one-size-fits-all option. However, with advancements in vehicle technology, auto manufacturers are overcoming some of the challenges faced by those with height requirements. We've put together a list of cars worth considering for drivers who consistently find themselves on the shorter end of the spectrum. To help make it easy, however, each listed manufacturer suggested retail prices (MSRPs), and the various features and specifications listed reflect 2022 models.
Toyota Camry
The Toyota Camry is a modern midsize sedan that is the first to land on our list of suitable cars for short people. The Camry has built-in features that shorter drivers will find appealing, such as a low step-in, excellent visibility, tilting and telescoping steering wheel, steering wheel-based controls, and a power-adjustable driver's seat. It also features the Toyota Safety Sense 2.5 suite of advanced safety features, including pedestrian and cyclists detection, lane departure alert, lane tracing assist, road sign assist, and proactive driving assist, helping keep drivers of all statures safe.
Not only is the Toyota Camry an excellent option for drivers closer to the 5' range, but it is also a popular model pick for all drivers thanks to its superb reliability record, excellent crash test ratings, strong fuel economy and comfortable ride. 
Subaru Forester
If you're looking for one of the best SUVs for short drivers, the Subaru Forester is an excellent choice. This crossover SUV boasts great safety scores, a class-leading cargo capacity of 76.1 cubic feet, and standard all-wheel drive (AWD) capabilities. As a result, the Forester is an excellent option for any driver. However, shorter drivers will also love the large windows for excellent visibility, easy-to-use controls, a low step-in, a high seating position, a tilting and telescoping steering wheel with steering wheel controls, and the upgrade options for a power-adjustable driver's seat, a power liftgate, rear cross-traffic alert and lane-change assist. 
The Forester is about functionality and utility over style, preferring to lean into the need for excellent visibility and cargo space. However, even though it features a taller profile that offers enhanced off-road capabilities, it is still easy to step into. It also boasts comfortable seating, excellent crash test ratings, and advanced driver-assist systems, like adaptive cruise control and lane-keep assist, to help everyone stay safe on the road. It even is more fuel-efficient than other all-wheel drive vehicles in its class. 
Kia Soul
For drivers shopping for a budget-friendly, sporty option with plenty of upgrades and space, the Kia Soul is a versatile subcompact SUV for short drivers. Affordable yet roomy, the Soul has a high seating position to help shorter drivers get a clear view of the road ahead. In addition, the newer Kia Souls feature a tilt and telescoping steering wheel and a manual height-adjustable seat, with an upgrade option for 10-way power-adjusting seats. The upgrade to the Kia Soul S also adds bonus safety features, including blind-spot monitoring and emergency braking.
The Kia Soul has a distinct look with plenty of storage and seating, even among the compact SUVs. It is an enjoyable ride with great features and good value. The basic infotainment system comes with Apple CarPlay and Android Auto. The base engine is adequate, while the turbocharged 1.6-liter is more energetic. The only option is front-wheel drive (FWD), which comes with an excellent 10-year/100,000-mile warranty.
Subaru Outback
As the second Subaru on our list of cars for short people, the Subaru Outback falls somewhere between a station wagon and an SUV. Although it has a slightly higher step-in than other options, it comes equipped with grab bars to help shorter drivers and passengers easily get in. In addition, the Outback features benefits that short drivers will find helpful, like superb visibility, high seating position, a manual height adjustable seat, and a tilting and telescoping steering wheel with controls. However, the upgraded options come with even more benefits helpful for shorter drivers, like a 10-way power-adjustable driver's seat and a hands-free power liftgate. 
The rugged appearance and raised appearance support an active lifestyle, while the comfortable driving experience, practicality, and road manners make it ideal for daily driving. With the Subaru Outback, you can choose a turbocharged engine or non-turbo, standard or all-wheel drive, helping drivers choose the best fit for their lifestyle. 
2022 MSRP:

$27,645 – $40,645

Reliability Rating:

3.5/5.0

 

Yearly Repair & Maintenance Cost:

$607

Edmund's Rating:

Average 7.6/10

Combined Fuel Economy:

29

mpg
Ford F-150
Just because someone has a smaller stature doesn't mean they have to have smaller needs. The Ford F-150 modern full-size pickup truck is an excellent choice for shorter drivers looking for a larger option with more capabilities. The Ford F-150 features height-friendly adjustable pedals, tilt and telescoping steering wheel, and large windows for better visibility. In addition, with higher seats, you can see over the side mirrors, avoiding potential blind spots associated with pickup truck side mirrors. The comfortable and adjustable seats and excellent visibility make the Ford F-150 great for short and tall drivers. 
The Ford F-150 has a lot going for it, including a wide variety of engine options, including gasoline, hybrid, and electric options, excellent towing capacity, an easy-to-use and attractive infotainment center, and an onboard generator. As a result, this pickup truck boasts an attractive blend of power, efficiency, comfort and capability that is ideal for any driver. 
2022 MSRP Range:

$38,920 – $80,435 

Reliability Rating:

3.5/5.0

Yearly Repair & Maintenance Cost:

$788

Edmund's Rating:

Great 8.5/10

Combined Fuel Economy:

22

mpg

 
Other Great Cars for Drivers with Specific Needs
Just like drivers under 5'6", everyday drivers have their own unique set of needs. As a result, automakers continue to strive to design models that fit a broader driver base and their different lifestyles. Here are a few great cars to consider: 
Best SUV for Tall Drivers | GMC Yukon
Although you can't go wrong with a half-ton pickup truck when looking for roomy cabin space, the 2023 GMC Yukon is a classic truck-based SUV with generous headroom and legroom space of 86.8 inches. The GMC Yukon accommodates a large family of up to 9 passengers and luggage for a quiet, comfortable road trip. Its classic V8 engine delivers reliable power to pull big trailers and haul heavy loads. 
Best Rideshare Vehicle | Toyota Venza
As a rideshare or delivery driver for services like Uber or DoorDash, having the right car can make a world of difference. The Toyota Venza is a hybrid SUV with excellent fuel economy (up to 40 mpg in the city). It has a comfortable ride and a powerful hybrid powertrain, making it easy to accelerate. Riders enjoy the spacious interior, offering 37.8" of rear legroom, plus a range of standard amenities like wireless charging, 4 USB ports, CarPlay/Auto, and safety features like automatic emergency braking and lane departure warning.
Best Heavy Duty Truck | Ford Super Duty F-350
The Ford F-350 stats are impressive, boasting impressive diesel power and towing strength, with a maximum towing capacity of 21,200 pounds. However, the experts at Edmunds note that this behemoth of a truck can tow a trailer weighing up to 35,750 pounds. Along with serious power, it also is cable of up to 1,050 lb-ft of torque and a payload limit of 7,850 lbs. In addition, the F-350 considers interior space and comfort, providing a luxurious and tech-forward cabin on upper trims. It seats six and offers six trim levels, the most sought-after being the LARIAT Crew Cab 6.75' Box SRW four-wheel drive (4WD), which starts at $62,695 and is equipped with a 6.2L V8 engine and 4WD.
Best Vehicles for Road Trips | Ford Bronco Sport
Affectionately called the "Baby Bronco," the Bronco Sport is a mini SUV based on the Ford Escape and can help turn any standard road trip into an off-road adventure if you journey off the beaten path. It's smaller than the standard Bronco and offers an excellent mix for road trips, with a comfortable ride on pavement and extra power for off-roading. Plus, it's equipped with Ford Co-Pilot360 for safety, including auto braking, lane-keep assist, blind-spot monitoring, and rear cross-traffic alert.
Best Luxury Vehicle | Alfa Romeo Giulia
The Giulia is an exciting ride with various trim options, like the Giulia Ti AWD, which was praised for its impressive speed, steering, and consistent handling and braking in a 2020 test. The Quadrifoglio boasts twin-turbo V-6 power and a major cornering grip. In addition, all Giulia models feature curve-adaptive headlights, navigation, a wireless smartphone charger, auto-dim rearview mirror, heated front/rear seats, Apple CarPlay/Android Auto, 8.8" touchscreen, dual-zone climate control, and rain-sensing wipers as standard equipment.
Keep Your Vehicle Covered with Endurance Warranty
Although automakers continue to develop their cars to suit drivers from various body styles and designs, the truth is that no vehicle truly fits every driver or need. If you're not of average height or need speed or wide open roads, it is vital to research to find the right vehicle for you. This includes everything from the initial sticker price (whether new or used), maintenance costs, and your comfortability. However, whether you choose one of the vehicles mentioned above or any other new or used car, all cars eventually break down. With used cars in particular, while they will often be the more budget-friendly choice, any breakdowns or repairs will likely be on you to pay as you'll be outside its factory warranty coverage. Regardless of who your automaker was or when your original coverage expired, you can get peace of mind regarding unexpected breakdowns and repairs with an Endurance auto protection plan.
With Endurance, you can rest easy knowing that you can get comprehensive and award-winning breakdown coverage for various vehicles, even long after a factory warranty has expired or if the vehicle is excluded from other extended warranty companies. Whether you have an older, high-mileage vehicle, select models from luxury car makers such as Alfa Romeo, high-mileage vehicles, older vehicles, vehicles used for rideshare, diesel vehicles, Canadian Grey market vehicles, cars with salvage or rebuilt titles, and others. 
All Endurance coverage plans are customizable with flexible payment options and are backed by a 30-day, risk-free money-back guarantee to ensure you have the right plan. In addition to financial protection from the costly repair costs associated with unexpected mechanical breakdowns, all plans include a suite of other benefits, including 24/7 roadside assistance and towing, trip-interruption coverage, rental car reimbursement and more. In addition, endurance customers can save even more with a free year's worth of additional Endurance Elite Benefits, like tire replacements or repairs, key fob replacements and more, after paying a small activation fee. 
Protect yourself and your vehicle from costly repair bills with Endurance by requesting a FREE quote, or you can shop online to find the perfect plan for you. You can also contact a member of the award-winning Endurance customer care team by calling (800) 253-8203 if you have any questions on how Endurance can help you. In addition, the Endurance blog is a valuable resource for FAQs about extended car warranties, as well as finding out whether buying a car is better than leasing, if GAP insurance is available at Endurance, ways to save money when buying your next car, and more. 
More like this
Make/Model

If you're the owner of a Honda Accord, you certainly aren't alone. The brand has a great reputation for producing some of the most reliable cars on the road, with..

Read More

Make/Model

The last thing any Ram driver wants is to hear an odd noise while driving down the road, followed by a mechanical issue within their vehicle. Unfortunately, mechanical breakdowns are..

Read More

Make/Model

Finding yourself in the position where you are notified of a recall affecting your vehicle is never a fun situation, but it should require immediate action on your part. Depending..

Read More