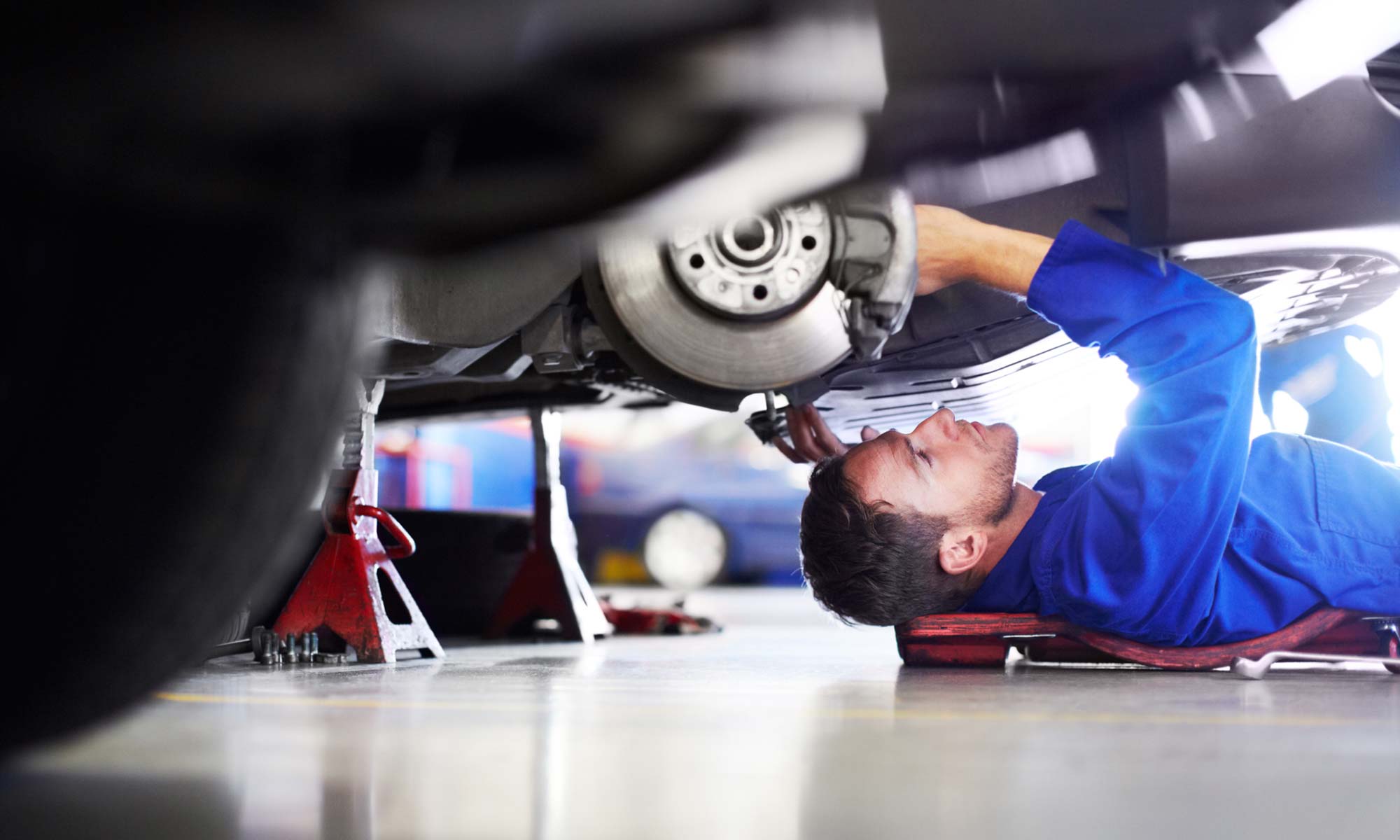 If you are in the market for a new or used vehicle, you will want to look at the total cost of ownership, not just the price listed on the windshield or the car-buying website. Of course, there are pros and cons regarding the type of vehicle you purchase. When purchasing a new vehicle, you will receive an excellent factory warranty that will protect you if an unexpected breakdown occurs. 
A used car is your best bet if you are looking to save while still getting a reliable ride. But, while cost-effective, the factory warranty period may be over, leaving you to pay for any repairs out of pocket. You can get factory-like coverage covering the repair expense with an extended warranty or vehicle protection plan for many used vehicles.
With many different warranties and protection plans available, choosing one can be intimidating. That's why learning more about the providers and what they can offer, such as comparing popular third-party extended warranty companies, Endurance Warranty and GWC Warranty, gives you a better idea of what you can expect when purchasing a protection plan.
What to Know About Extended Car Warranties
When purchasing a new car, you expect it to be built to last for years with little to no repairs needed. Keeping up with the vehicle's routine maintenance should keep it running smoothly to provide years of reliability. As a precaution, however, vehicle manufacturers offer a factory warranty with their new cars to cover the expense of repairs needed for defects in workmanship or materials. 
Simply put, a factory warranty protects you if your vehicle breaks down within the warranty period, typically between three years or 36,000 miles (whichever comes for) and five years or 60,000 miles. Some automakers may even offer you coverage for as long as 10 years or more, including having no mileage restrictions. Regardless of how long or comprehensive that factory coverage is, once you have reached the limits, you will be responsible for paying for any necessary repairs out of pocket—unless you purchase an extended car warranty. However, where you get that coverage and what perks come with it will depend on a few things.
Automakers often offer extended auto warranties for car owners, but with a few stipulations. Some may limit you to buying your extended coverage while buying your brand-new car or your original warranty. If you wait a day or drive over your limit, you'd be out of luck. If you get coverage, like how your original warranty may have been, you may be limited to visiting the dealership for repairs. 
If you're looking for similar comprehensive coverage but with a few more perks and benefits, purchasing coverage from a third-party extended warranty company is the right choice. Unlike coverage from automakers, plans from third-party car warranty companies (which technically are called vehicle service contracts) will range from basic powertrain coverage to exclusionary coverage that mimics a car's factory warranty coverage. Plus, third-party providers like Endurance Warranty will often be incentivized to offer you more than automaker coverage. You'll find perks like 24/7 roadside assistance, trip interruption, rental car reimbursement, and more.
The Companies
Finding the best-extended warranty for your vehicle can be challenging, especially if you have never purchased a plan before. Learning about Endurance Warranty and GWC Warranty, like what kinds of vehicles are eligible for coverage and the additional perks and benefits available, can help you find the right coverage for your vehicle. 
About Endurance Warranty
As a leading provider of auto protection plans since 2006, Endurance Warranty Services offers one of the widest varieties of affordable coverage options to fit nearly every budget and vehicle. That means whether you have a high-mileage vehicle, one up to 20 years old, or one with a salvage or rebuilt title, you can rest easy knowing Endurance has you covered. You can also get peace of mind with Endurance's award-winning coverage if you have a Canadian Grey Market vehicle, a select high-end luxury vehicle, or if you use your car commercially (like for a rideshare or delivery service).
Along with eligibility far past anything an automaker can give you, each Endurance plan comes with several complimentary benefits, regardless of your coverage. That includes 24/7 roadside assistance, trip interruption, and rental car reimbursement. Unlike factory warranties and some extended warranty companies, Endurance customers can have repairs done at any certified repair facility or ASE Certified mechanic. You can even take your car to the dealership if you'd like. But that's still not all, as new Endurance customers are also eligible for one year of Endurance Elite Benefits, including more perks and savings, including tire coverage, collision discounts and more. 
You'll even get a full, 30-day money-back guarantee to ensure that your Endurance coverage is precisely what you need. Also, because we're a direct provider, not only will you have someone there to help you throughout every step of your claims process, but most auto protection plans from Endurance are transferable. That means if you decide to sell your car in the future during your coverage period, the new owner will be able to utilize the protection plan. 
Along with award-winning coverage, you'll also get Enduance's award-winning customer service team there to help you whenever you need it. But don't just take our word, as they, and Endurance's coverage as a whole, have helped us earn thousands of 4- and 5-star customer reviews on Trustpilot, Google, Consumer Affairs, and more.
About GWC Warranty
The GWC Warranty name likely sounds familiar to some, as over 11 million people have trusted them with protecting their vehicles. With new and used vehicle plans, you can find a plan that fits your needs. GWC Warranty also partners with auto dealers, agents, and lenders to help provide reliable vehicle protection plans for their customers to help them find confidence, freedom, and reliability in their "No Worries, Just Drive" experience. 
With Day One, Mile One coverage, you can drive off the lot with the peace of mind that your vehicle is covered from the moment you purchase a "near-new car." With a nationwide network of service facilities, you can travel anywhere without worrying about finding a specific repair facility. 
Another thing to note is that, under their FAQs section, GWC states that plans can only be purchased through authorized car dealerships, as they do not administer their coverage directly to consumers. Due to this, they also note that plans must either be purchased the same day you buy a car (if its original warranty is no longer active). For vehicles that still have active factory coverage, GWC notes that you will have to wait for that to expire before you can purchase a plan.
Like, Endurance, they also note that their coverages are transferable to new owners and list that "most plans" that fall under their Stated Component Coverage come with roadside assistance, trip interruption and rental car coverage. There is no indication of this coverage on any coverage plans that fall under their Exclusionary Coverage.
The Plans
Now that we know more about the two companies let's look at the differences between the Endurance Warranty plans and GWC warranty plans to give you a better idea of what you can expect from these two companies.
Endurance Warranty Auto Protection Plans
With one of the market's most comprehensive selections of auto protection plans, Endurance has you covered with a plan to fit just about every budget and vehicle. And while you can customize plans to fit your exact needs, you can start your search with one of the main Endurance coverage plans. 
Supreme
This exclusionary coverage plan is the most comprehensive plan offered by Endurance. It offers maximum breakdown protection with only a small list of exclusions, making it perfect if you use your car daily and want coverage as close to your car's original factory bumper-to-bumper warranty as possible.
Supreme for Highline Vehicles
Owning a luxury vehicle comes with glitz and glamour, but it can also create frustration between the higher-than-normal repair and maintenance costs. Besides, despite their high prices, luxury vehicles often rank as the least reliable. Due to this, many extended warranty providers exclude them from their coverage—but not Endurance. With Supreme for Highline Vehicles, you can get coverage for select models from some of the world's most popular automakers, including BMW, Jaguar, Porsche, Land Rover, Maserati, Mercedes-Benz, and more that are up to eight years old and with fewer than 80,000 miles.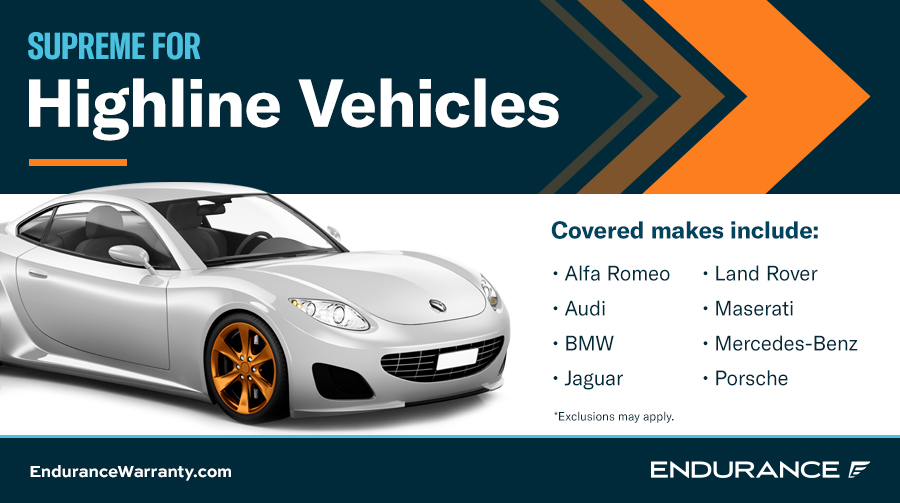 Superior
The Superior plan from Endurance offers you the highest level of stated component coverage, meaning unless a part is listed explicitly as an exclusion, it's covered. This means that whether it's your car's engine to the rear suspension, Endurance will have you covered. 
Select Premier
Finding an extended warranty for older vehicles and cars with high mileage on the odometer can be difficult. At Endurance, vehicles up to 150,000 miles can get coverage with the Select Premier protection plan.
Secure Plus
The Secure Plus protection plan from Endurance is a step above Secure, giving you the most extensive powertrain coverage for your vehicle, including its engine and transmission. You will also get coverage for your vehicle's air conditioning, electrical components, steering, and more.
Secure
Endurance's Secure protection plan is a budget-friendly option that gives you basic powertrain coverage at an affordable price. Starting at $79/month, you can get your engine and transmission coverage without breaking the bank.
Advantage
Whether you get a plan from automakers or other providers, almost all of them will help you cover some form or another of repairs and breakdowns. But, if you want to enjoy comprehensive breakdown protection AND save on your car's yearly maintenance needs, then the Advantage protection plan from Endurance will be your best choice. Available for vehicles up to 20 years old (including hybrids, minus the batteries) regardless of how many miles they have. 
As part of the maintenance coverage, you will get up to $3,500 in maintenance benefits each year, including alignment checks, tire rotations, engine diagnostic exams, help with state safety inspections and much more. You will also benefit from one-time services, which include cooling system maintenance, a battery replacement, a front or rear wiper blade set replacement, and more.
GWC Vehicle Protection Plans
While not having many set plans, GWC offers two types of coverages, Exclusionary and Stated Component. 
Exclusionary Coverage
GWC's Exclusionary Coverage is the closest you can get to a factory warranty from GWC. Like the Supreme and Superior plans from Endurance, this plan covers so many components of your vehicle that it's easier to list what it does not cover. This plan covers vehicles up to 150,000 miles, giving you the ultimate peace of mind regarding coverage for low-mileage and high-mileage vehicles. Unlike the Stated Component Coverage, this plan does not mention any available roadside assistance, trip interruption, or rental car reimbursement. 
GWC also allows you to add optional upgrade coverages to protect other components on most of their Exclusionary Coverage plans. This coverage includes navigation systems and high-tech sensors coverage, service vouchers, zero deductibles, and much more.
Stated Component Coverage
If you are looking for a more affordable protection plan from GWC, the Stated Component Coverage will offer a more budget-friendly option that still features great coverage. With a Stated Component Coverage plan, every part listed in your service contract is covered in the event of a breakdown.
This protection plan can be purchased for vehicles with starting mileage up to 200,000, giving you great protection for higher-mileage vehicles, though not expanding to unlimited mileage eligibility like you can find with Advantage from Endurance. GWC also notes on the webpage that the Stated Component Coverage will include 24/7 roadside assistance, trip interruption, and rental car reimbursement. 
Other GWC Coverage
Along with the Exclusionary and State Component coverages, GWC's website lists the "New Vehicle Protection Plan "and the "Used Vehicle Protection Plan." For the New Vehicle plan, GWC notes that coverage is available for those looking to purchase a "near-new car" and that you should ask your dealership about this available coverage.
For the Used Vehicle plan, GWC notes that it's available for vehicles up to 200,000 miles and can include the optional add-ons in the Exclusionary and Stated Component plans. 
Get Total Protection for Your Vehicle from Endurance
Whether it's new, used or any make or model of vehicle, buying a car is fun and exciting. It's vital to remember, however, that any cost of a car is much more than what you initially paid for it. Maintenance and repairs are always going to be needed to keep it running.
With the right coverage, like an award-winning Endurance auto protection plan, you can take the guesswork out of owning a vehicle. Even if you have a car excluded from other extended car warranty plans, such as high-end luxury vehicles, high-mileage vehicles, rebuilt or salvage title vehicles and more. You can also rest easy knowing you'll have 24/7 roadside assistance, towing, rental car reimbursement, and trip interruption services, plus an entire year's worth of FREE Endurance Elite Benefits. You can even take your vehicle to any certified mechanic or repair shop of your choice, including your dealership.
Get your vehicle protected by requesting a FREE quote or shop online today. You can also speak to our award-winning customer service team at (800) 253-8203 to learn more about how Endurance can help you. Don't forget to also check out the Endurance blog for other extended warranty comparisons, DIY maintenance tips, vehicle buying guides, answers to your biggest warranty FAQs and more.
More like this
Comparisons

While owning a car is incredibly liberating, it doesn't come cheap. In August 2023, AAA announced that the average annual cost of running and maintaining a vehicle had just passed..

Read More

Comparisons

No matter what kind of car you drive, keeping it in good condition should be one of your top priorities. A vehicle that is well taken care of will last..

Read More

Comparisons

Buying a new or used car can be incredibly exciting, especially if you are buying something you have always dreamed of owning. No matter what kind of vehicle you purchase,..

Read More