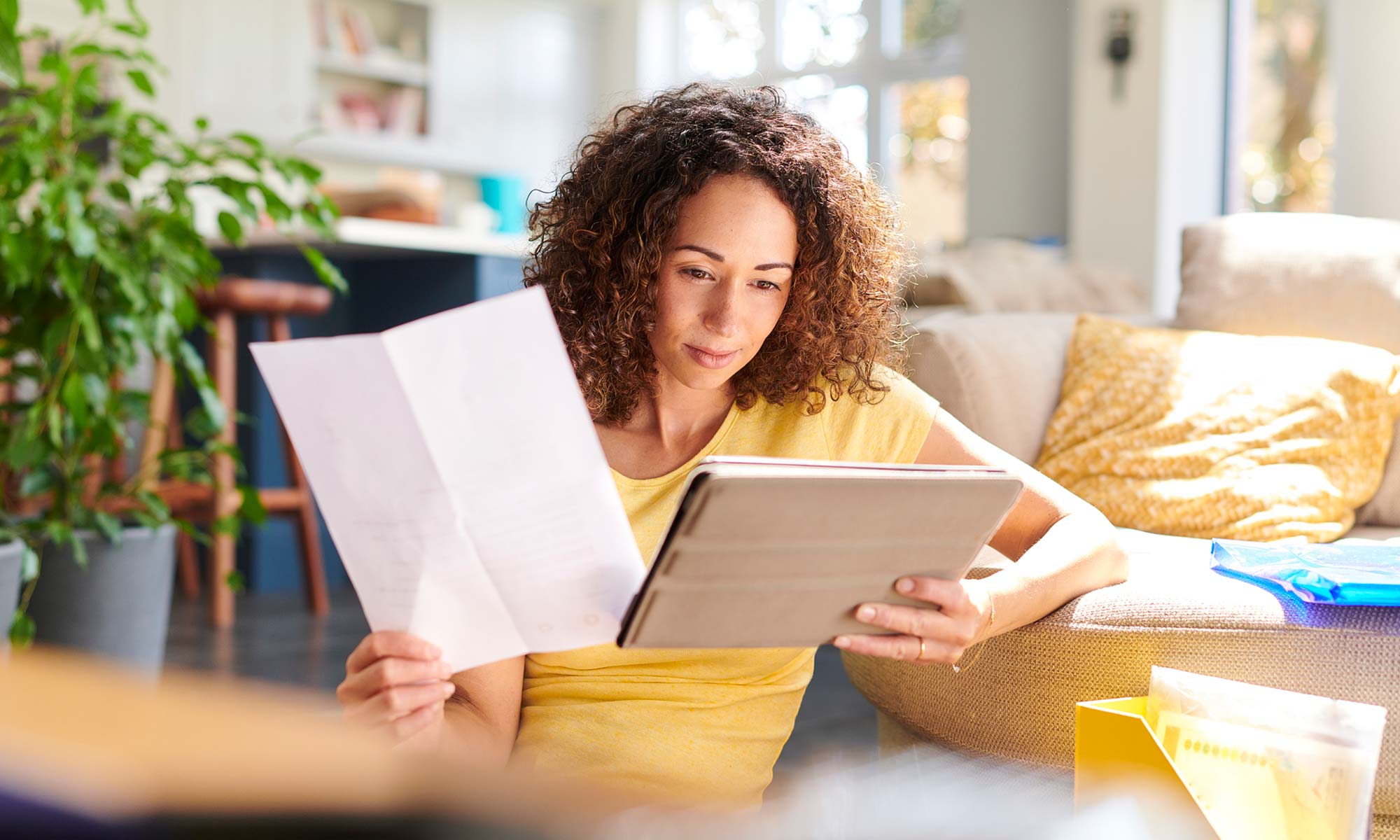 Whether it's your first car or your 20th, there are few things as exciting as getting behind the wheel of a new car. But while having a car can give anyone, young or old, a sense of freedom to go anywhere they want, there's more to owning a vehicle than taking it out for a cruise around town or across the country. In fact, experts note that owning a new vehicle can cost car owners close to $10,000 each year on top of the vehicle's sticker price. Coupled with the fact that both new and used car prices have increased due to the COVID-19 pandemic, you could be paying more than you expected—especially if you're dealing with unexpected car breakdowns and repairs while you're outside your factory warranty coverage.
Instead, an extended car warranty is the best way to help give you peace of mind regarding your car and your budget when it comes to expensive repair bills. But with so many providers and levels of coverage to choose from, learning more about them, such as how plans from Endurance Warranty and American First Auto Protect compare, can help you find the best coverage for you and your vehicle.
How Can a Warranty Protect My Car?
You'll hear plenty of terms in the auto protection space, and "extended auto warranty" is perhaps one of the most common. But what exactly are they? Well, to understand what an extended warranty is, you first have to know about factory coverage. 
Essentially, when you purchase a brand new car, it will come equipped with a factory or manufacturer's warranty, which is effectively your automaker's promise to fix any issues that might occur within a set number of years/miles traveled after the initial purchase. For most automakers, this coverage will be in the form of a bumper-to-bumper warranty and/or a powertrain warranty and will typically last 3 years/36,000 miles or 5 years/60,000 miles, though some can extend up to 10 years or more. For example, Hyundai offers drivers powertrain coverage that lasts for 10 years/100,000 miles, while Jaguar's "New Vehicle Limited Warranty" (that includes powertrain coverage) will only last for 5 years/60,000 miles.
Regardless of the automaker, however, once the factory warranty has expired, you're on your own when dealing with any repairs, potentially saving you thousands of dollars. But for those that would like to continue the coverage their factory warranty offered, many manufacturers provide an extended warranty for an annual fee. However, one downside of this kind of coverage is that you must purchase most extended warranties from automakers before the factory warranty expires, or your vehicle won't be eligible. That means if you've recently purchased a used car that's a few years old, you may not have the protection of its original factory warranty. Thus you'd be left paying for repair bills on your own—unless you find coverage from a third-party car warranty provider.
How Third-Party Warranty Providers Can Help
Like a factory or extended warranty from your automaker, third-party extended car warranty plans from providers like us at Endurance, CarShield, CARCHEX, Olive, Concord Auto Protect and more can help protect you with covered repairs from breakdowns and other issues. However, while you will often hear these kinds of vehicle protection plans called "extended warranties," they are more accurately vehicle services contracts (VSCs), as only an automaker can actually "extend" your original warranty coverage. 
Still, despite not being a warranty by definition, third-party providers can often give you the kind of coverage while providing you with better coverage, prices, and perks than manufacturers. For starters, third-party providers are incentivized to offer better coverage, prices, and perks than manufacturers. Plus, you won't be tied to dealerships when it comes to getting authorized repairs; instead, you'll often be able to go to any ASE Certified mechanic or auto repair shop of your choice. 
But, while most third-party providers can give you much of the same benefits, the levels of coverage you can get will all depend on the company you choose. 
The Companies
Endurance Warranty
Endurance has been the nation's leading provider of vehicle service contracts since 2006, meaning that you can rest assured that when dealing with Endurance, you aren't getting scammed. Instead, you'll get award-winning coverage thanks to our comprehensive, flexible, affordable plans. You'll even find coverage for a wide range of vehicles, like older cars up to 20 years old, high-mileage vehicles, luxury vehicles and even Canadian Grey Market vehicles or cars with a salvage or rebuilt title can find coverage with Endurance. But don't just take our word for it, as these are just a few of the hundreds of 4- and 5-star reviews we receive each year on various reviews sites like Trustpilot, Consumer Affairs and more:


But along with award-winning coverage and customer service, every Endurance protection plan can give you peace of mind thanks to complimentary perks like 24/7 roadside assistance, trip interruption coverage, and rental car reimbursement. And if that wasn't enough, you'll automatically be eligible to enjoy an entire year's worth of Endurance Elite Benefits, including even more perks and savings like key fob replacements, complete tire coverage, and more. You can also enjoy a 30-day money-back guarantee to help ensure you have the best coverage for yourself and your vehicle.
Plus, while manufacturer extended warranties may limit you to having your car repairs carried out at a dealership, Endurance plans are accepted at any certified repair facility or mechanic. And as a direct provider of our plans, you'll be able to have a member of our award-winning customer service team there to guide you every step throughout your claims process. And with the Endurance Mobile app, checking your policy details and making a claim couldn't be simpler. You'll also find that most of our plans are transferable, increasing the value of your vehicle should you decide to sell it.
American First Auto Protect
American First Auto Protect is based out of Albany, New York and has been providing customers with vehicle service contracts across the country for over the last 14 years. However, unlike Endurance, American First Auto protect has an F rating with the Better Business Bureau (BBB), accompanied by a warning regarding a high volume and pattern of serious complaints. They also have a 2.3 rating with 46 reviews on Trustpilot as of this writing.
Along with less than stellar reviews, American First Auto Protect's website doesn't give much information about the plans and benefits available. However, they note that they include 24/7 roadside, "out of gas," dead battery, trip interruption and towing services across each of their plans. And while they don't provide much else, they actively encourage potential customers to get in touch first to learn more while claiming to be client-focused and flexible. However, a slew of negative customer reviews would argue otherwise.
The Plans
Endurance Warranty Auto Protection Plans
While we at Endurance offer several protection plans, you can also work directly with one of our representatives to craft the perfect plan for your needs and budget.
Advantage
Our most comprehensive breakdown package for vehicles up to 20 years old and with no mileage cut-off, this market-leading plan also includes $3,500 in annual maintenance services, including essentials like oil changes, tire rotations and more. Even rideshare/delivery drivers are eligible for coverage with Advantage, which is something most other providers will not accommodate, helping drivers save a significant amount of money and keeping potential downtime to a minimum. Even Canadian Gray Market vehicles and salvage or rebuilt title vehicles can get covered with Advantage.
Supreme
Supreme is known as exclusionary coverage because it covers almost everything between your bumpers besides a small list of exclusions. This makes Supreme ideal for anyone who relies on their vehicle for daily driving to and from work or those who want the closest thing to a factory warranty you can find.
Supreme for Highline Vehicles
Owning a luxury car can be a thrill, but the repair bills are quite the opposite—which is where this extension of the Supreme plan can help. With the Highline protection plan, you can get coverage designed specifically for owners of select luxury vehicles up to eight years old with less than 80,000 miles. Covered manufacturers include Land Rover, BMW, Jaguar, Mercedes-Benz and more. A $500 deductible and other exclusions also apply to this plan.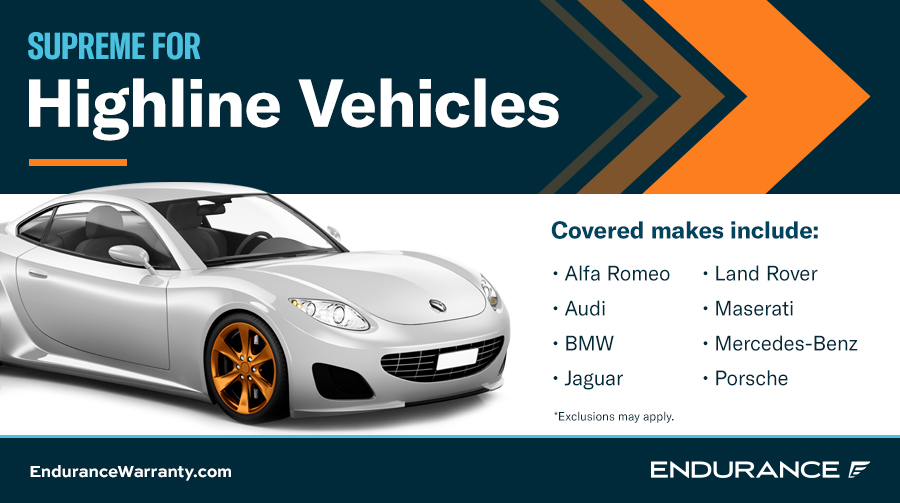 Superior
Drivers looking for the most component coverage don't have to look any further than the Superior plan. Covering hundreds of components from the engine to the rear suspension from unexpected failure, it's the perfect plan for total peace of mind.
Select Premier
With new and used car prices higher than usual, you may hold onto your current vehicle for longer. But that also means putting more miles on it, and with miles comes the potential for more issues, which is why the Select Premier plan is perfect for drivers of high-mileage vehicles. As long as your car has under 150,000 miles, we'll protect its vital components along with select lubricated parts of your car's engine, transmission, and drive axle assembly, as well as your electrical, cooling, air conditioning, heating, and fuel systems.
Secure Plus
For premium powertrain protection without breaking the bank, our Secure plan is the perfect choice for you. Sitting just a step above our budget-friendly Secure plan, Secure Plus will help cover your car's vital components, plus your brakes, air conditioning, steering, and even electrical components.
Secure
Our most budget-friendly policy with monthly payments starting as low as just $79, Secure helps you cover your vehicle with basic powertrain coverage, including key components like your engine, transmission, and more. 
American First Auto Protect Plans
There are currently three coverage options listed on American First Auto Protect's website: Silver, Gold, and Platinum. Each tier adds more items to the list of covered components but little else.
Silver
The most basic level of coverage offered by American First Auto Protect, Silver, protects your car's: engine, transmission, cooling system, electrical system, drive axle, brake system, and 4×4 AWD. 
Gold
While you think going up in terms of coverage would provide even more protection, American First Auto Protect only indicates that you'll add steering system coverage on top of everything provided in the Gold plan. 
Platinum
As their highest level of coverage, American First Auto Protect finally adds more components, including turbo/superchargers, air conditioning, fuel system, ABS, suspension, seals, gaskets, GPS navigation, high-tech electronics, and everything the previous two tiers.
Choose Endurance for Total Vehicle Protection
When owning a vehicle, especially an older vehicle, having an extended warranty or vehicle service contract can help you rest easy when faced with the unexpected. After all, without one, you could be faced with thousands of dollars in repair bills. That's why finding the right coverage plan—from the right provider—can give you complete peace of mind whenever you're out on the road. And when it comes to finding the best coverage—nothing can beat Endurance. 
Whether you're looking for basic coverage with monthly payments as low as $79, coverage for your high-end luxury car or comprehensive coverage AND yearly maintenance services—Endurance has a plan to fit your needs and budget. Just get in touch with our award-winning customer care team by calling (800) 253-8203 to learn more about how Endurance can help you. Or, you can get started with your comprehensive component coverage by requesting your free quote today. 
And don't forget you can find even more helpful articles on all things automotive, including DIY maintenance tips, answers to extended warranty FAQs, road trip planning guides and much more by visiting the Endurance blog.
More like this
Comparisons

While owning a car is incredibly liberating, it doesn't come cheap. In August 2023, AAA announced that the average annual cost of running and maintaining a vehicle had just passed..

Read More

Comparisons

No matter what kind of car you drive, keeping it in good condition should be one of your top priorities. A vehicle that is well taken care of will last..

Read More

Comparisons

Buying a new or used car can be incredibly exciting, especially if you are buying something you have always dreamed of owning. No matter what kind of vehicle you purchase,..

Read More