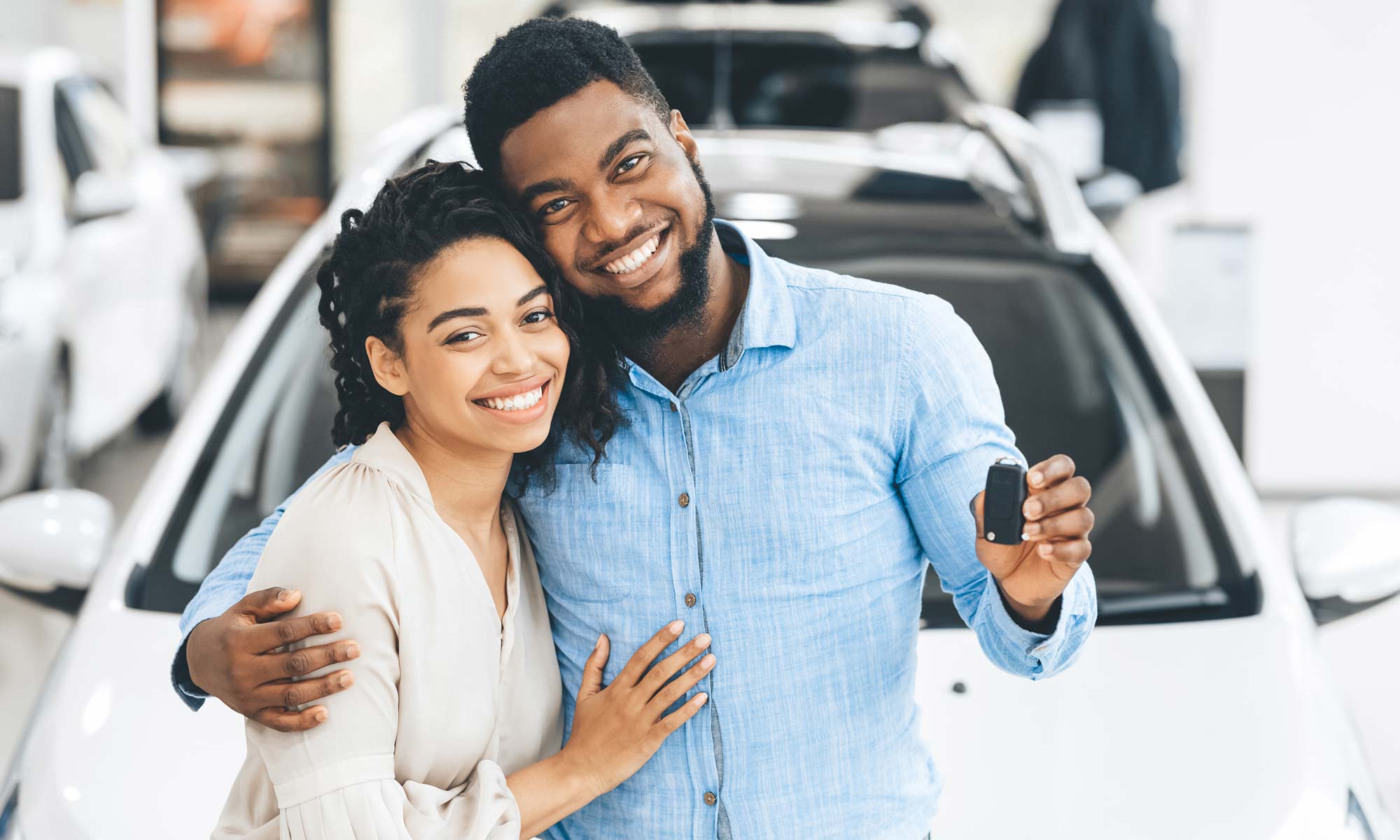 When buying a new or used vehicle, it is essential to factor in all the additional costs of ownership. After all, buying a car is one thing, but you'll want to protect yourself and your investment with auto insurance, keep it running smoothly with routine maintenance, and fix it when it needs repairs. New vehicles are typically covered for mechanical breakdowns by the manufacturer's warranty, making buying a new car an attractive option. However, while a used car likely is past its factory coverage, it can enjoy similar mechanical breakdown protections as a new car with an extended warranty or auto protection plan.
Like shopping for a car, it's essential to take your time and research the available options when shopping for coverage for your vehicle. You aren't limited to a manufacturer's warranty, too, as you can find vehicle protection plans from third-party warranty companies like Endurance, Carshield, Carchex, Olive, and others, which is why doing your research is vital. 
So to help you find the right coverage for your vehicle, let's compare the plans from Endurance Warranty and AAA Extended Warranty and the other perks and benefits they can offer you. 
What to Know about Car Warranties
Where car insurance companies protect cars and their drivers in a car accident, car warranties help get the vehicle back up and running after a mechanical breakdown. Buying a new car generally from the dealership comes with the added benefit of a factory warranty directly from the manufacturer. These auto warranties are often referred to as bumper-to-bumper warranties because they prevent car owners from unexpected expensive repairs due to manufacturing defects on almost every single part of the vehicle between the front and rear bumpers. You'll also often find additional powertrain warranty coverage combined with a bumper-to-bumper plan to help protect the more critical components, like the engine and transmission.
Standard bumper-to-bumper warranties last three years or 36,000 miles (whichever comes first), while powertrain warranties often last for five years or 60,000 miles, though these can vary from automaker to automaker. Once these warranties end, however, you will be financially responsible for any repairs your vehicle needs unless you buy additional extended warranty coverage.
What to Know about Extended Car Warranties
Many automakers or even specific dealerships offer extended auto warranty coverage to protect your vehicle after the original warranty is up. Unfortunately, coverages from these providers sometimes come with different comprehensive benefits than your original warranty. Additionally, most automaker or dealership extended warranties cover limited parts and can require a copayment and a higher deductible, along with limiting to only visiting the dealership for repairs. There are other options, however.
You can protect yourself from the expensive repair costs of unexpected mechanical breakdowns with the help of a third-party extended warranty provider. These providers, which technically administer vehicle service contracts (VSCs), offer auto protection plans plus additional benefits and cover the repair bill for more makes and models than manufacturers' or dealership-provided extended car warranties. For instance, many third-party warranties, like those from Endurance Warranty, have added perks like 24/7 roadside assistance, towing, trip interruption coverage and rental car reimbursement, even if you have a high-mileage or high-end luxury car.
The Companies
With countless third-party providers and automaker extended warranty coverages available, it's vital to do your research, like seeing how coverage from Endurance Warranty and AAA compare.
About Endurance Warranty
Endurance Warranty Services has been a leading provider of vehicle service contracts since 2006. Based in Northbrook, Illinois, Endurance offers a wide variety of affordable coverage options with flexible payment plans, providing peace of mind for nearly every budget and vehicle. 
For example, Endurance has auto protection plans for high-mileage vehicles (with no odometer cutoffs), cars up to 20 years old, Canadian Grey Market vehicles, vehicles with a salvage or rebuilt title, high-end luxury vehicles, and even commercially used vehicles, including those used by delivery and rideshare drivers. So no matter your car, you can rest easy knowing there's an Endurance plan for you. You'll also automatically have the help of 24/7 roadside assistance, as well as rental car reimbursement and trip interruption coverage. 
Plus, no matter your plan, you'll also be eligible for an entire year's worth of Endurance Elite Benefits, which include even more perks and savings, including tire replacements/repairs and key fob replacements, collision discounts and up to $1,000 in total loss protection. In addition, all Endurance protection plans are backed by a 30-day money-back guarantee to ensure your chosen plan is truly the plan for you. Best of all, with the exclusive Endurance Mobile app, you'll have access to your Elite Benefits, information about your coverage, and more at your fingertips.
Additionally, as a direct provider, most Endurance auto protection plans are transferable. So if you decide to sell your car while your coverage is active, the next owner can utilize the benefits. You can get repairs done at any certified repair facility, car dealership or ASE Certified mechanic. But, while each of these perks helps Endurance stand out, the award-winning customer service team makes a difference. 
Endurance is dedicated to putting customers' needs first throughout the claims process, an unparalleled standard in the industry that has earned thousands of 4- and 5-star customer reviews on Trustpilot, Google, Consumer Affairs and more. Our team is on standby, ready to help answer any questions about warranty coverage or how to use your benefits when needed.


About AAA Extended Car Warranty
You'll likely recognize the name American Automobile Association (AAA) for the iconic roadside assistance services they've been known for since 1902. Still, you may not know that the company also offers AAA extended warranty plans. It should be made aware, too, that AAA isn't a single process but a national association of 42 regional motor clubs.
Their plans are affordable for most vehicle owners, especially if you already have a AAA membership. However, pricing, availability and covered repairs will vary around the country. For example, AAA Auto Club South, which covered Tennessee, Florida and Georgia, no longer offers protection plans even for AAA members. Still, AAA Carolinas provides comprehensive coverage options for North and South Carolina residents. To see if you're eligible for a plan, you'll have to reach out to your respective AAA website for your area.
AAA car warranties are available in four different levels of coverage, depending on what is offered in your area. This includes coverage for older vehicles and higher coverage limits that go up to vehicles that are seven years old and have 230,000 miles. Like Endurance plans, all four AAA plans are transferable to future owners with a small $50 transfer fee. They also include other additional benefits, many of which come with each Endurance plan:
Rental car reimbursement:

Up to $35 per day for up to five days

Trip interruption coverage:

Hotel and meal reimbursement of up to $75 per day for up to three days if you are more than 100 miles from home

Battery coverage:

One-time battery replacement

Emergency self-authorization:

If the claims office is closed, drivers can self-approve claims up to $500

Disappearing deductible:

The standard $100

deductible

is reduced to $50 if the vehicle is repaired at an

AAA

-approved

repair facility

or the

deductible

is waived at any

AAA

-owned

repair shop

Zero-Interest Payments:

Up to two years
The Plans
Endurance Warranty Auto Protection Plans
While Endurance has various auto protection plans, award-winning representatives can help you craft a personalized protection plan to help fit your needs and budget.
Advantage
The Advantage protection plan is a comprehensive coverage plan that offers the same breakdown protection and car repairs as traditional extended car warranties but with the bonus of maintenance coverage—a perk excluded by other providers or automakers. This plan is available for cars (even hybrids, minus the battery) up to 20 years old, regardless of mileage. It includes up to $3,500 annually in maintenance benefits, helping you pay for essential services like alignment checks, tire rotations, engine diagnostic exams and more. Advantage also includes several one-time services, such as a wiper blade set replacement, cooling system maintenance, a battery replacement and more to help you enjoy even more coverage and savings. 
Supreme
Our most comprehensive plan, Supreme, offers exclusionary coverage for maximum breakdown protection with just a small list of exclusions. This makes it ideal if you rely heavily on your car and are looking for as close to a factory bumper-to-bumper coverage as possible.
Supreme for Highline Vehicles
Although luxury vehicles are highly sought after, they often top the list of the most expensive repairs and least reliable vehicles. These reasons are why most providers often exclude these high-end vehicles from their coverage, but not Endurance. With Supreme for Highline Vehicles, you can get breakdown protection for select models from popular automakers like BMW, Jaguar, Porsche, Land Rover, Maserati, Mercedes-Benz and more that are up to eight years old with fewer than 80,000 miles.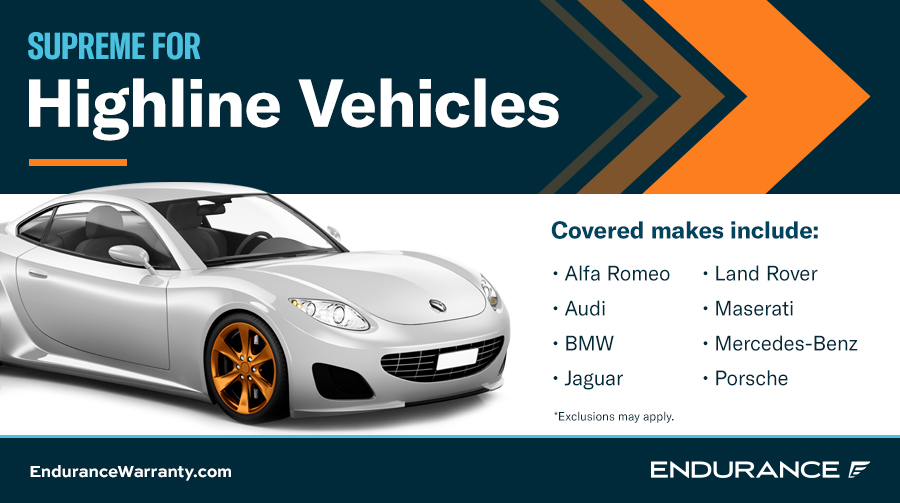 Superior
This comprehensive plan covers many parts of your vehicle as possible—from its engine to its rear suspension. So if you use your vehicle for your daily commute or enjoy the occasional long road trip, then the Superior protection plan is for you. 
Select Premier
Select Premier offers protection for older vehicles and cars with high mileage of up to 150,000 miles that might have difficulty finding warranty coverage from other providers. Overall, this plan covers vital vehicle parts, including select engine, drivetrain, and transmission, as well as the cooling and fuel systems. It also covers air conditioning and electrical parts.
Secure Plus
A step above Secure, the Secure Plus plan gives you more extensive powertrain coverage, including coverage for your car's vital components like brakes, engine, transmission, air conditioning, electrical components, steering and more.
Secure
If you're looking for basic powertrain coverage at an affordable price, look no further than Secure. This budget-friendly auto protection plan covers the most costly parts of your vehicle to repair. It starts at just $79 a month, making it ideal for almost anyone looking for comprehensive coverage without breaking the bank.
AAA Extended Warranty Plans
AAA warranty plans vary based on region and depend on your area's AAA car club. You should contact your local AAA representative to get a custom quote for warranty costs and inclusions, as the public has limited information about their plans. However, those that do offer coverage typically include:
Exclusionary
The AAA Exclusionary plan is the company's comprehensive protection plan, offering coverage for your vehicle's vital parts, such as the engine and transmission, and comfort features, like the audio and navigation systems. It is the only one of the four available options offered for hybrid vehicles.
Comprehensive
This vehicle service contract is one step down from the Exclusionary plan and is unavailable to hybrid vehicles. The Comprehensive plan covers the essential parts of the powertrain to ensure your car stays on the road while also protecting the audio so you can enjoy your drive. 
Essential Plus
The Essential Plus AAA auto protection plan covers vital powertrain components, such as the engine and transmission. It also protects your vehicle against other common mechanical breakdowns, including the air conditioning, cooling system, anti-lock brake system, suspension and steering, to name a few. 
Essential
The Essential plan is AAA's basic protection plan, covering your vehicle's important parts to keep you on the road, including the engine, transmission, turbo/supercharger, air conditioning, transfer case, cooling system, fuel system and more. 
Get Total Peace of Mind from Expensive Repairs with Endurance
Buying a car is exciting, but it also comes with many responsibilities, like knowing how to properly maintain it and getting repairs done when needed. However, you can take the guesswork out of owning a vehicle with an extended car warranty or vehicle service contract from a third-party provider. In fact, with the right plan and provider, such as the award-winning coverage from Endurance Warranty, you can drive confidently for one low monthly payment, knowing that your vehicle is covered for most mechanical breakdowns if something goes wrong. 
With an Endurance auto protection plan, you can rest easy knowing you'll have comprehensive vehicle protection without breaking the bank. Even better, Endurance has plans that cover vehicles excluded from the factory or extended car warranty coverage, such as high-mileage vehicles, high-end luxury vehicles, and more. You'll have access to a suite of bonus perks when you activate your entire year of Endurance Elite Benefits with complimentary 24/7 roadside assistance, towing, rental car reimbursement and trip interruption coverage. 
Start protecting your vehicle today by requesting a free, no-obligation quote or call our award-winning customer service team at (800) 253-8203 to answer any questions you may have. Don't forget to stop by the Endurance blog, where you can find other extended warranty comparisons, articles on topics like DIY car maintenance tips, vehicle buying guides, answers to your biggest extended warranty FAQs and more.
More like this
Comparisons

Owning a car is incredibly liberating, but unfortunately, that freedom comes at a significant cost. Not only is it expensive to purchase a vehicle, but the cost of annual repairs..

Read More

Comparisons

Drivers generally know that staying on top of a car's service schedule and needed repairs are essential parts of vehicle ownership. Making repairs as soon as they come up will..

Read More

Comparisons

Buying a used car can have a lot of benefits and is a great way to save money while still getting a quality vehicle. When purchasing a used vehicle, though,..

Read More